Maternity
Infant Feeding Specialist / Tongue Tie
Feeding and Caring for your baby
In pregnancy
Your midwifery care in pregnancy will include several conversations about feeding and caring for your baby after birth so that you feel well prepared and have a chance to ask questions you have. Your midwife will also signpost you to several sources of information we recommend including the Real Baby Milk leaflet available to expectant and new parents across the Bath, Swindon and Salisbury Local Maternity System.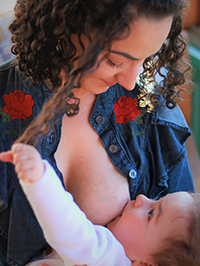 After birth
Support for feeding and caring for your baby is an important part of postnatal care and it will be tailored to each mother's and baby's needs.
Again there will be time for conversation about these topics ensuring that you grow in confidence over the time of your postnatal care.
Specialist Support
Occasionally mothers and babies need some extra support and this is also available. Your midwife will refer you to the Specialist Infant Feeding team. They will contact you by phone to discuss your needs and how they can be met.
Tongue tie assessment and division service
If you and your baby are experiencing feeding difficulties that are not resolving and a tongue tie is suspected you will be referred into the service. The Infant Feeding Specialist will contact you by phone, discuss your situation and offer you an appointment for assessment if you need one. Usually within 1 week of referral.
If you think you have been referred but have not heard from us within 3 working days then please email ruh-tr.infantfeeding@nhs.net
Mum2Mum Breastfeeding Peer Support

Breastfeeding Peer Supporters are mothers who have breastfed themselves and who (after training) offer support to other mothers as volunteers. They work in a variety of setting including on Mary Ward at the Royal United Hospital, in Children's Centres in Wiltshire and on line.
Contact them on Facebook in pregnancy or after birth:
Bath & West Wiltshire Breastfeeding Peer Support
Infant Feeding Support Videos
Human Milk, Tailor-made for Tiny Humans
Baby Friendly Initiative
Meeting baby for the first time