Maternity
Meet our Safety Champions
What is a Maternity and Neonatal Safety Champion?
In England, every maternity provider is expected to nominate key individuals - at least two on the front line, including an obstetrician and a midwife, who are jointly responsible for championing maternity and neonatal safety locally, and a board member. The champions on the front line have links with the board, the local maternity clinical network and the maternal and neonatal health safety collaborative in their region.
Maternity and Neonatal Reporting Structure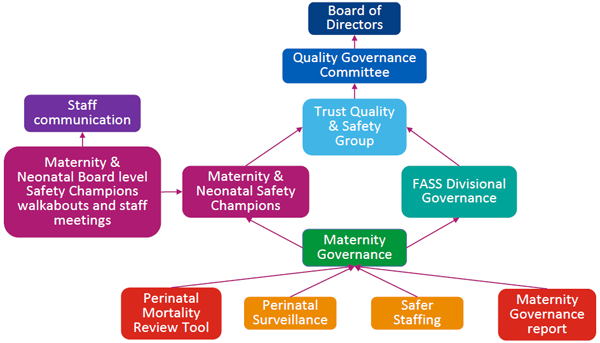 What is Governance?
Governance in healthcare is referred to as clinical governance, "a system through which NHS organisations are accountable for continuously improving the quality of their services and safeguarding high standards of care by creating an environment in which excellence in clinical care will flourish".
It involves monitoring systems and processes to provide assurance of patient safety and quality of care across the organisation.