Colorectal
Preparing for your Operation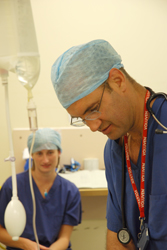 On this page:
Pre-admission Clinic
You will receive a letter confirming a date for your admission and an outpatient appointment for a pre-admission clinic.
The pre-admission clinic is located on level 2 of RUH South.
At this clinic the pre-admission nurse / doctor will ask you questions about your illness and arrange for you to have any blood tests, X-rays or ECGs(heart checks) necessary to ensure you are fit for an anaesthetic.
At this appointment you may want to ask about current visiting hours at the hospital.
More information about preparing for your hospital stay, including visiting hours can be found on:
Bowel Preparation
In order for surgery to be performed we need your bowel to be "clean".
Therefore you may have certain dietary restrictions and may be given Picolax (a strong laxative) to take at home prior to your admission, if appropriate.
Your Admission
You will be given a letter detailing when you will be admitted for your operation and where you should go.
Either a ward or the central admissions unit, (which is by the pre-admission clinic in RUH South). If you have not been seen in the pre-admission clinic, you should be admitted at midday, the day before your operation.
When you are admitted a stoma care nurse may come to see you to put a mark on your tummy in case it is necessary for you to have a stoma. You will also see an anaesthetist who will meet you and explain how pain-relieving drugs are administered.
Pain Relief Options
Patient Controlled Analgesia is a form of pain killer administered to you in liquid form via a drip into your arm. With this type of pain relief you control the amount you receive and when.
Epidural
Epidural is a form of medication given to you by the insertion of a tube into your back. The anaesthetist will assess you and decide what amount of pain relief should be given.
Oral Analgesia
You will start taking pain killing tablets within a day or two of your operation, as the use of PCA and epidural are gradually reduced.
General Hospital Information
Your Hospital Stay (link opens a new window)
Transport & Parking (link opens a new window)
---
Next Section: Operations
---