Colorectal
Laparoscopic Colorectal Surgery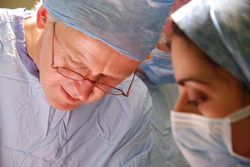 Our surgeons have been involved with laparoscopic bowel surgery from its inception and we are steadily increasing the number of patients who can benefit from it.
For cancer patients who have keyhole surgery, not only is hospital stay reduced but they
The safety of keyhole surgery to treat cancer has been well established by large randomised controlled trials in which the RUH has participated.
Patients recover quicker, which is especially valuable to those who undergo subsequent chemotherapy treatment.
We also perform many operations for non cancerous bowel disorders including inflammatory bowel disease and rectal prolapse.
Related information
More about Laparoscopic Procedures