Colorectal
After your Operation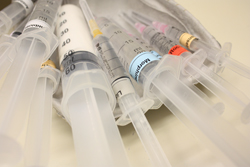 On this page:
Your Recovery
Immediately after your operation you will go into a room called the post anaesthetic recovery unit so that nurses can monitor and observe you closely until it is safe for you to return to the ward.
When you start to come round after your operation you may find you have a little tube in your mouth, this is to help you breathe.
Try not to worry, you will automatically spit this out and that is perfectly normal.
When you arrive on the ward the nurses will help to make you comfortable and regularly check your blood pressure, pulse, breathing rate and temperature. Initially this may be quite frequently and will gradually become less.
How Soon Will I Get Out Of Bed?
The day after your operation the nurses will assist and encourage you to get up and move around. This is to prevent any complications.
Research has shown us it is important to be mobile as soon as possible after an operation to reduce the risk of blood clots, chest infections and pressure sores.
To further reduce this risk you will also be given support stockings and a small daily injection of a blood thinning drug into your tummy until you are fully mobile.
Will I have any Pain?
It is very important that you alert the nurse if you are experiencing pain.
People experience pain in all sorts of ways.
Before you go to theatre you will have a consultation with an anaesthetist and he / she will discuss the different options of pain relief for you:
Patient Controlled Analgesia
This is a form of pain killer administered to you in liquid form via a drip into your arm. With this type of pain relief you control the amount you receive and when.
Epidural
Epidural is a form of medication given to you by the insertion of a tube into your back. The anaesthetist will assess you and decide what amount of pain relief should be given.
Oral Analgesia
You will start taking pain killing tablets within a day or two of your operation, as the use of PCA and epidural are gradually reduced.
If you have had laparoscopic (Key hole) surgery you may suffer with referred pain which may be felt between your shoulder blades.
When Will My Bowels Start Working?
After your operation your bowels stop working as a reaction to being handled. The doctors will feel and sometimes listen to your tummy to see if your bowel is starting to work again.
In most cases you can drink on the day of your operation and start eating the next day. It may take a few days for your appetite to recover.
While you are not eating and drinking, fluid will be administered to you through a drip in your arm or hand.
If you have had a stoma formed, initially blood stained fluid will be in the bag. Within a few days the bag will start filling with stool and the stoma care nurse will teach you how to look after your stoma.
Will I Be Sick After The Operation?
After having an operation some people feel sick. If this is the case, tell a nurse who will be able to resolve this by giving you some anti-sickness drugs.
Once you start having your bowels open or once your stoma starts to work, you should stop feeling sick.
To help take the feeling of sickness away when you come back from theatre, occasionally you may find that you have a tube in your nose, this goes down into your stomach.
This tube should not affect your ability to talk and will be removed when your bowel begins to work again.
Passing Urine
A catheter (tube) will be placed into your bladder to enable your kidneys to drain away urine. This tube will be removed in a few days.
Wound Drains
After any operation it is normal for blood and fluid to be produced, sometimes you may require a tube from your abdomen to drain any excess fluid.
The amount will be measured and as it becomes less the drain will be removed. Ask the nurse for some pain relief before the drain is removed if you are in any way concerned.
Stitches
Your wound will have stitches, staples (metal clips) or glue to keep it together while it heals. These may be dissolvable, otherwise they will be removed after 10-14 days.
If you have already gone home you should make an appointment with your practice nurse to have them removed.
Questions
If you have any questions at any time ask the ward nurses, doctors or your colorectal nurse. They will be only too pleased to explain anything that concerns you or your family.
Good tip:
Write your thoughts and questions down so that you do not forget to ask
---
Next Section: Going Home
---