About the Audiology Department
The Audiology Department aims to provide efficient, effective, and excellent quality of patient care, supporting those in our community with hearing loss. We aim to put patients first by expanding our care into the community and becoming a centre of excellence where new colleagues are keen to work. We also value staff experience and are a cohesive and caring team.
Our department supports both adults and children with hearing loss, and supports Ear, Nose and Throat (ENT) clinics.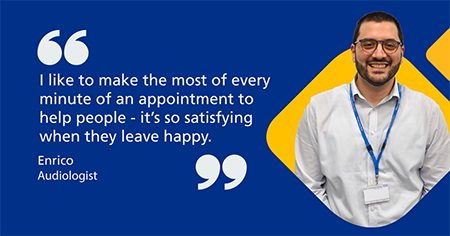 The Clinic
We run clinics for routine hearing tests and hearing aid fittings, as well as supporting patients with balance appointments. We also provide support for patients who have learning difficulties and more complex hearing problems.

Our Paediatric service consists of specialist paediatric Audiologists, who are there to support children with hearing aids (fittings and ongoing management). Diagnostics testing for children without hearing aids is available from other community providers; your GP will be able to refer you to the correct service.

Our main clinic is based at the Royal United Hospital in Bath. However, we also have clinics at the following community locations. Please be aware there is a higher demand for these appointments and therefore waiting times may be longer:
Frome Medical Centre
Devizes Health Centre
Chippenham Community Hospital
Malmesbury Primary Care Centre
Melksham Community Hospital
Shepton Mallet Community Hospital
Warminster Community Hospital
Domiciliary appointments are also available for those patients who are unable to leave their home.
Hearing Aid Batteries
NHS Batteries, for use only with Hearing Aids authorised by the NHS, may be obtained by post. Please post a stamped, self-addressed envelope with your battery book so we can update your record and post the items to you. Please note you will need to use a large letter stamp.

You can also get batteries from some of our community locations (please ask your local Hospital), and the Royal United Hospital main reception. The ENT/Audiology shared reception (C37) can also provide you with batteries, as well as new tubes and domes.
Hearing Aid Repairs
Repairs are by appointment only, we do not currently have a walk-in service. If you feel you need a hearing aid repair, or need replacement parts for hearing aids (tubing, domes, etc.) please ring for a convenient appointment, or please contact us by email, as our phone lines are often busy.

Repairs can also be sent in via the post, rather than coming in for an appointment, and will be returned to you as soon as possible. Please ensure to include your battery book or your name and address so we can identify the aids and return them safely to you.
Your appointment
The Department consists of Audiologists, Clinical Scientists and Clerical Staff.
You may be required to prepare for your appointment
A routine adult appointment will last 45 minutes, and a routine paediatric appointment will last 75 minutes. Appointment times will vary in length for more complex appointments.
Please remember to bring your hearing aid and record book (if you have one) with you when you attend the repair clinic or have an appointment for a reassessment. If possible, please ask the nurse at your GP practice to check your ears for wax prior to an appointment.
Location
Second Floor, Zone C
Please check in at the ENT/Audiology shared reception in C37. Please allow time for parking as often spaces outside the hospital are limited. Once you arrive, please check in at the ENT reception (C37), located on the second floor in Zone C. The Audiology reception is shared with ENT, and you must check-in there before you will be directed to your appointment by one of our receptionists.
Facilities
Waiting area, test rooms, fitting rooms.
Contact details
Address:
Audiology Department, Royal United Hospital, Combe Park, BA1 3NG.
Reception is open 9:00am – 5:00pm, Monday to Friday.
Travel arrangements
Hospital transport is limited and reserved ONLY for those who have no other means. Therefore, we ask you to make your own arrangements wherever possible.
Useful links
Avon Fire & Rescue Service
Advice on fire safety for those with hearing difficulties, including a link to book a free Home Fire Safety Visit:
Advice for people with disabilities/people with hearing difficulties
Where can I find further advice and support?
Further information can be found below :
Frequently Asked Questions (FAQs): Please check these before contacting our department, as you may find the answer to your question in this document


Detailed general information leaflet on your hearing aid


Detailed user guides for specific hearing aid types.

Please check the model and brand (Oticon or Phonak) of your hearing aid before checking the user guide