| | |
| --- | --- |
| Research & Development | D1 |
COVID-19 research
Information about current COVID-19 studies at the RUH.
Welcome
A day in the life of ...
Find out what a typical day is like for one of our Research Nurses.


Research and development is an important part of our hospital's work.  It informs our treatment programmes and contributes to a better understanding of many conditions.
In partnership with local universities in Bath and Bristol, as well as many other universities and NHS trusts, we ensure that this research is carried out to the highest standards.
Our clinicians are involved in a number of research projects and evidence based working. We are committed to encouraging further research and evidence based working and will support applications from external researchers to conduct studies here.
Applications for research approval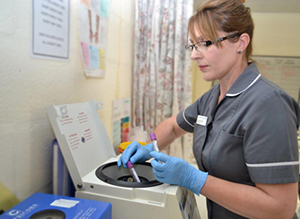 Research Ethics Committee approval and Trust Research Governance approval is required for almost every research study, including student research.
Trust approval process
For Trust approval of a research project,
the researcher will need to provide relevant documentation and information to the Trust R&D office
.
The project will then be considered by the Trust R&D Manager. An approval decision will normally be given within 15 days of receipt of valid application.
Ethical approval
To apply for the approval of the Local Research Ethical Committee, please refer to the following external websites:-
Researchers wishing to include their study on the National Institute for Health Research Portfolio are required to use IRAS as this the only entry point to the Co-ordinated System for Gaining NHS Permission (CSP).