Maternity
Pain relief (analgesia) for labour and birth
"Pain or discomfort is what the individual claims it to be and at an intensity unique to them."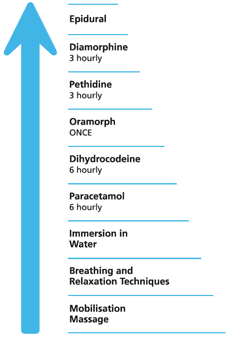 Your midwife will explain all the options available to you and support you in your choices and decisions throughout labour and birth.
The use of TENs, acupuncture and hypnosis is not evidence based for pain relief in labour, but midwives will fully support you should you wish to use any of these methods.
All of the options for pain relief are available in all Birth Centres except the epidural service that is only available in Bath Birth Centre.
If you choose to birth with an epidural this will prolong your stay in Bath Birth Centre by a minimum of 12 hours.
Your options
You may like to find out more about your pain relief options in labour and birth on the Labour Pains International Translations web site where you can read information in different languages ranging from Urdu, Hindi, Bengali, Somali, Arabic, Mandarin to French, Punjabi, Polish, Gujarati and Cantonese.
The app can be found at the AppStore for iPhone or iPad or at GooglePlay for Android devices. Search 'OAA pain relief'.