Gastroenterology
Endoscopy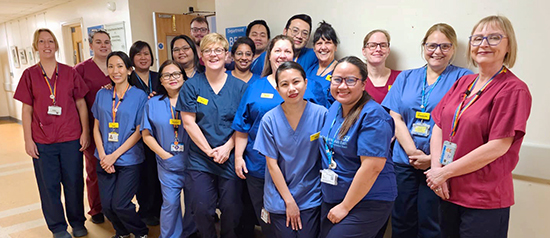 The endoscopy department is located in area B on the second floor, department B57 and offers colonoscopy, gastroscopy, ERCP (endoscopic retrograde cholangiopancreatogram) and bronchoscopy.
Our nursing staff can be contacted on 01225 821425 or 01225 821788.
Patient Information Leaflets
Endoscopy training at the RUH
The RUH has several trainees working in endoscopy; this leaflet is provided to inform patients about how this may affect the endoscopy procedure.
Diabetic patients having bowel preparation for a CTC
Diabetic Patients having reduced bowel preparation CTC
Diabetic Patients having a Colonoscopy or Flexible Sigmoidoscopy
Diabetic Patients having an OGD or Bronchoscopy
Elective admission for bowel preparation
Having an Endoscopic Retrograde Cholangio Pancreatograph
Having a Lower and Upper Gastrointestinal Endoscopy
Having a Lower Gastrointestinal Endoscopy
Having an Upper Gastrointestinal Endoscopy
Post procedure advice
Endoscopic Retrograde Cholangio Pancreatograph (ERCP)
Colonoscopy / Flexible Sigmoidoscopy
Please contact the department on 01225 824069 for any other patient information leaflets.
Video - What happens during a colonoscopy?