Breast Unit
Correction of Inverted Nipple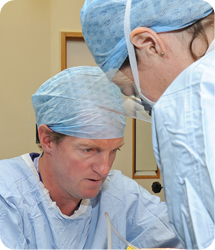 The nipple can sometimes become shrunken or inverted.  If this is a new development it is important to make an appointment to see your GP so that the problem can be properly assessed.  Sometimes a breast cancer can cause the nipple to become inverted.
However, many women have an inverted nipple due to natural and harmless processes.  For most women this may not be a problem and will not cause any symptoms. 
Sometime an inverted nipple may cause problems, such as discomfort, difficulty in breast feeding or issues in relation to cosmetic appearance. 
We are able to see and assess women in the breast clinic who have this problem. 
There are a variety of treatment options available, surgery being one of them. 
Please Note:
This type of surgery is available at the RUH but prior authorisation through the local Clinical Commissioning Group (CCG) is required.