Breast Unit
Breast Asymmetry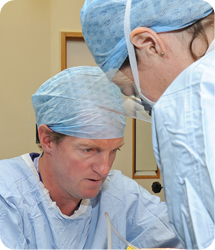 Assymmetrical (uneven) breast development is extremely common.  Indeed, most women will have a slight degree of assymmetry, where one breast is larger than the other or is a slightly different shape.
However, some women will have a degree of assymmetry that is quite pronounced.  This is relatively common.  This can happen as a consequence of previous treatment for breast cancer although it may present in young women with no apparent cause.
We see a considerable number of women in the breast reconstruction clinic who have this problem.
After a careful clinical examination we are able to advice the nature of the problem and what can be done to help. 
Through the assistance of our breast care nurses we can offer a service to measure and fit an external prosthesis to help mask the assymmetry.
Some women with very pronounced assymmetry may request surgery.  We can offer advice as to the surgical options available.
Surgery can proceed for those women who have had precious treatment for breast cancer. 
Unfortunately for other women surgery can only proceed after prior authorisation has been secured through the local Clinical Commissioning Group (CCG).