Breast Unit
Breast Implant Related Problems
Breast Implant Related Problems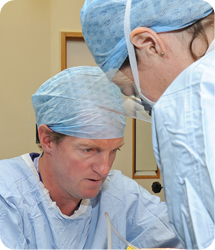 An increasing number of women have breast implants.  These may be have been used for reconstructive or for cosmetic purposes. 
Occasionally problems and concerns may develop associated  with the implant, such as scar tissue capsule formation or a rupture of the shell of the implant. 
These problems can be assessed in the breast unit through clinical examination by a doctor and imaging investigations, such as breast ultrasound scan. 
Please Note:
This type of surgery is available at the RUH but prior authorisation through the local Clinical Commissioning Group (CCG) is required.
Breast Implant Associated Anaplastic Large Cell Lymphoma (ALCL)
Recently breast surgeons have been increasingly aware of a rare form of cancer seen in a small number of patients who have had breast implants used in either reconstructive or cosmetic breast surgery called anaplastic large cell lymphoma (ALCL). When a patient has any foreign body or medical device placed inside them it is completely normal to form a scar-tissue capsule around it, as the body recognises that it is something which ordinarily should not be there.
ALCL appears to arise from this capsule, and as a lymphoma is totally different to breast cancer.  It often occurs about 7-9 years following implant insertion, although can occur sooner. It most commonly causes a swelling around the implant due to a fluid collection called a seroma, and less commonly may cause a lump or mass to be felt in the breast. If this happens, patients should ask their GP's to refer them to their local breast unit for assessment.
If patients do develop ALCL, treatment is managed between breast surgeons and lymphoma specialists, and often only requires removal of the implant and soft tissue capsule around it, although some case reports show that some patients have been recommended to have other treatments in addition to surgery such as chemotherapy or radiotherapy.
To date, there have been around 700 reported cases of ALCL identified world-wide, in approximately 15-20 million patients who have had implants placed surgically. It is found almost exclusively in patients who have had textured implants used in their surgery, which are the type of implants which most breast surgeons use in the UK including here at the RUH. We use textured implants as this type of implant helps to reduce the much more common problem of capsular contracture following implant placement, which often requires further surgical treatment to correct.
The brand of implant used here at the RUH (Mentor) published data at the end of 2018 which estimates the risk of developing ALCL to be approximately 1:86,000 implants placed, and the professional body which regulates breast surgeons in the UK (Association of Breast Surgery – ABS) has advised us that on the basis of current data that it is safe to continue to use breast implants for reconstructive and cosmetic breast surgery, but to discuss ALCL with patients before surgery.
We have also asked our patients here at the RUH for their permission to register their implants on the national breast implant data-base since its inception nearly three years ago, so that if problems are identified with implants that it is easier and more straight forward for patients to find this out than previously where such information has not been held.
If you have any questions or concerns about symptoms relating to ALCL we are happy to discuss this with patients here in clinic at the breast unit if your GP refers you.