Start your career at the RUH as a Healthcare Assistant
On Thursday 10 March 2022 we held a virtual event on Microsoft Teams to hear about 'A day in a life of a Healthcare Assistant'.
If you were unable to attend our virtual event, you can watch the recording by clicking here to request access and watch it back.
If you're looking for a career that makes a positive difference to you and others, one that offers variety and can open you up to a whole world of opportunities - apply today to become a healthcare assistant.
We are looking for people who are passionate about caring for others, work well as part of a team and are willing to learn. In return, we'll train and develop you and you'll work with extraordinary people here at the Royal United Hospitals Bath.
Healthcare assistants play an important role in our nursing teams, you will help patients feel as comfortable and stress-free as possible. You'll work under the guidance of a healthcare professional such as a nurse and your job will vary day-to-day.
If you have the following qualities listed below, then we want to hear from you:
Caring, kind and friendly
Willing to be hands-on with patients
Able to follow instructions and procedures
Able to work in a team but also use your own initiative
Good communication, observational and organisation skills
Start your life-changing job - check out our vacancies
We will be holding regular healthcare assistant interviews. These jobs are advertised on NHS Jobs.
We have Healthcare Assistant vacancies in the following specialties:
We are looking for experienced Healthcare Assistants to join our Bank. As a Bank worker, you can book shifts just a few hours in advance and up to six weeks ahead. We have regular and occasional work to suit your needs and can offer flexible working patterns so you can work around other commitments.
Preparing you for your role
When you join us as a Healthcare Assistant you will be supported by our dedicated Clinical Practice Education Team. In your first two weeks you'll begin the training to ensure you are competent in your new role. They will teach you about the essential part a Healthcare Assistant plays within our nursing teams as well as how to deliver high quality care to our patients. It's important to us that you are ready and have learnt the skills needed to be confident in this role.
You will also start the Foundation in Clinical Skills and start working on the Care Certificate which you will need to complete within the first 12 weeks of working in the Trust.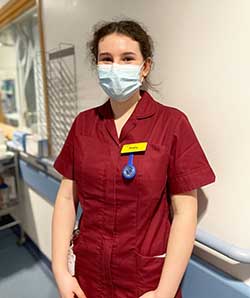 Developing you as an individual doesn't stop there as the team will ensure that you have induction shifts on your ward for the first two to three weeks (depending on any previous care experience) and the Trust will continue to invest in you to help you grow as a person, identify your strengths and help you succeed to become the person you want to be and have a successful career at the RUH.
Healthcare Assistant Polly Lockton said:
"The HCA induction programme was brilliant. I had no previous care experience so it really helped prepare me for life on the wards.
"They made sure I was taught everything I needed to know and everyone in my induction group was very kind and supportive."
Your future - new opportunities, new focus, new zest for life
Healthcare support worker roles are a great entry point into the NHS and can lead to a lifelong career. If you're looking to become a healthcare professional and want to gain experience, it's a great place to start.
In the first 12 weeks we will help you achieve the Care Certificate to help you provide high quality care to our patients. Developing you as an individual doesn't stop there, we will invest in you to help you grow as a person, identify your strengths and help you succeed to become the person you want to be.
You will find further information on career development in our Learning and Development Prospectus. Any HCA's who join our Trust and are new to care will be expected to complete an apprenticeship at Level 2.
Meet some of our Healthcare Assistants
Alvina Ware

Senior Healthcare Assistant

To do this job you've got to have a loving heart, a desire to help care for people and a willingness to learn. It's a great time to join the RUH as a healthcare assistant - there's so much to learn and many opportunities to be had.

Read more

When you join as a healthcare assistant, we will help you be the best you can be and as a senior healthcare assistant that's part of my role. I love working here, caring for our patients, supporting our nursing teams and helping new healthcare assistants get to where they need to be - there's so much to offer here, I wouldn't want to work anywhere else.

I joined as a band 2 healthcare assistant seven years ago and have had my whole world opened up to new opportunities. I began working on Robin Smith ward, have worked on the Surgical Admissions Unit (SAU) and the Respiratory Assessment Unit (RAU) at the start of the pandemic and now I'm working on the Cardiac ward as band 3 healthcare assistant meaning I have more responsibilities.

I have learnt so much and it's given me the confidence to apply for new roles. I now have a split role meaning that I work as a healthcare assistant for part of the week and for two days work as an Inclusion Ambassador - and this is what I mean by having opportunities at the Trust.

It's amazing, I spend my time as an inclusion ambassador speaking to colleagues across the Trust, especially those from the BAME community about how to access training and development as well as mental health support. I liaise with managers, help get matters resolved, attend meetings with the directors and I'm also a Freedom to Speak Up representative so colleagues come to talk to me about many things and I think it's such a positive, important role to have.

Close


Mitchel Iles

Healthcare Assistant

It wasn't until I started working as a healthcare assistant at the RUH that I realised I had finally found a job that I absolutely love. I didn't know what I wanted to do when I left school and ended up working a variety of jobs; I've worked in a pub and been a labourer and had many other jobs in between.

Read more

I started working at the RUH about eight years ago. I applied for the healthcare assistant role because I was working as a carer in a nursing home and I wanted to gain more experience in a hospital setting. I love every bit of my job. It can be very exciting, I'm always learning and I feel part of a team. My colleagues, the doctors, nurses, therapists were so friendly and welcoming when I joined.

Working as a healthcare assistant is very rewarding. I have a lot of contact with our patients and throughout the day I help with them washing and getting up, make sure they're comfortable, and help them at meal times. This is important because these are basic tasks to us all, but when people can't do these for themselves it's so important to give them the dignity they need and it helps them in their recovery too.

I also have responsibilities such as taking their blood pressure, monitoring their oxygen levels and recording their vitals on our system. It's a real privilege to help people when they are so poorly and nursing them back to health gives me a lot of satisfaction.

My plan is to become a registered nurse and I'm on course to qualify this time next year. Since becoming a HCA I have completed my band 4 training and I'm now a student nurse, working 12 hours a week as a HCA in between my studying and training.

I would never have found this career if I hadn't applied to be a healthcare assistant at the RUH, so if you are a caring and compassionate person, looking for something new, I would definitely recommend this job to you.

Close


Molly Vowles

Healthcare Assistant

What I love the most about my job is making a difference for our patients, for example making their hospital visit as comfortable and welcoming as possible. I like being able to have a general chat with patients, especially with the pandemic they are not able to see family and friends.

Read more

I work on the Cardiology Day Case ward. I help our elective patients that come in for heart procedures. I get to meet all sorts of people which is great.

My colleagues call me the 'Cannula Queen' - I am really proud of this nickname, the team are great! At the weekends we do infusions and I work on the bank for phlebotomy. It takes me all over the hospital, so I have seen how much everywhere has been impacted by COVID.

It's been hard this year, wearing all the PPE we have to wear, but it won't stop me. It feels like everyone working in the hospital has got closer and is helping each other out. We're more like a family and it's nice to see.

I started at the RUH back in 2014 after I completed Health and Social Care at college. I always knew I wanted to do something that cared for others. I love it here, it's amazing and I have a future here as I am starting my Trainee Nursing Associate training in March this year.

Close


Darren Pitman

Senior Healthcare Assistant

My name is Darren and I'm a healthcare assistant at the RUH. Before I joined the Trust in 2005 I had a completely different career - I worked as an engineer for 20 years - until I decided that I needed a change.

Read more

One of my friends who is an intensive care nurse suggested that I considered a job in nursing. I said to her "Me being a nurse, you're having a laugh", but she said: "you've worked with the public for a long time, you know how to talk to strangers and like helping them."

So I gave it some thought and when I saw that the RUH was having a recruitment open day I went along, spoke to a few nurses and came home with some information and an application form for a healthcare assistant role. A few weeks after, I got a call inviting me for an interview and was later offered a job - that was 16 years ago.

To do this job, you've got to be caring, compassionate and a real people person. If you are, it's a great profession to be in, for me it's an honour and a privilege to help people in this way. Every patient is unique and each person deserves to be treated accordingly. I have always worked on the Surgical Admission Unit (SAU) and I really enjoy it.

Every day is a different, you don't know who you are going to meet. We look after patients aged 18 years up and every patient has their own story to tell. Although I am here to help, it is amazing what you can learn from them too. Being a healthcare assistant is so rewarding, because we are the patients' first point of contact and are there to talk to them, sit at their bedside as well as provide support to their families, get to know what their relative is like as a person so we can reassure them and make sure they are as comfortable as possible.

I work with a really great team and over the years they've given me so much support, whether it's been about work or personal family matters, there's always been someone here that I can talk to, ask for advice. Over the past 10 months that's been so important to all of us. We are essentially an extended family, as we spend a lot of time with each other and when the pandemic first hit, it was scary but, we as a team got through it together and we have all the PPE we need to do our jobs safely.

There are some many opportunities available once you join as a healthcare assistant at the RUH. You can progress right up the career ladder and go on to be a registered nurse if that's what you would like or you can continue developing your skills like me on a unit that you love. I've done numerous NVQs, a nursing degree, and learnt lots of clinical techniques to help assist in delivering high-quality patient care in SAU.

Close


Eli Bush

Healthcare Assistant

I always wanted to be a nurse or a midwife but didn't have the right qualifications. I resigned myself to that fact that I was just going to be doing admin jobs for the rest of my life and so I started working at the RUH as an administration assistant three years' ago in the Education Centre. It was my colleagues who inspired me to train to become a HCA.

Read more

Working for the NHS has loads of perks, such as job security and a good pension, but what I love most is the variety. I meet new people every day and I'm not stuck in one place. So, it's a job that never gets boring.

It's in my nature to help people, to make them feel welcome and at ease. The hospital is a big place, so I always stop to help visitors who are looking lost or worried.

"I absolutely love my job, but it's so lovely to know how the public appreciate what we do. We can't say thank them enough for their support."

Close

What we can offer you - your total reward package
Maternity, paternity and adoption pay
25 days annual leave entitlement that increases with your length of service
Flexible working arrangements
Excellent career progression with opportunities within the Trust
'Cycle to Work' Scheme - staff can pay for a bike and accessories over 12 months
NHS pension scheme including life insurance
For more information about these roles, please contact us: