Homecare Assistant
Be the reason someone smiles today!
We are looking for kind and compassionate staff to support people to live in their own homes in the B&NES area when they leave hospital.

We're hiring Homecare Assistants:
Salary: £20,330 - £21,333 per annum, pro rata
Hours: Part time – up to 28 hours per week
Location: Bath
Read more about the role below.

If you want more information, please contact:-
Jess Dolman-Sellars
Head of Discharge and Community-based Services

01225 825345

Opportunities
This is a brand new role which has been created jointly with Bath & North East Somerset Council and the Royal United Hospital (RUH). As a Homecare Assistant you will be employed by the RUH and be part of the new in-house team of health and social care workers who will provide help for people recovering from hospital, which will in turn, free up hospital beds for new admissions as well as those in the community.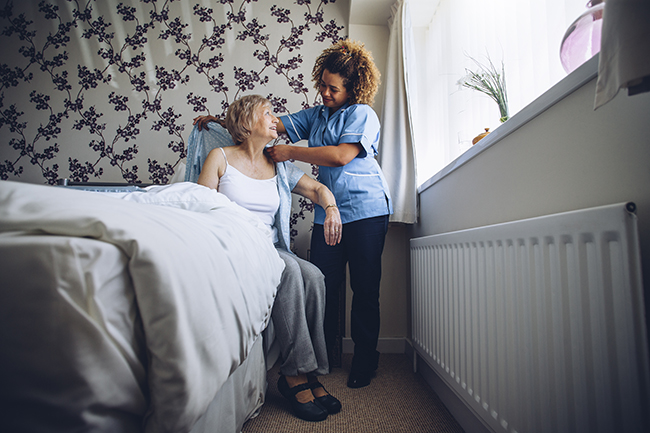 If you are looking for a caring role in the community, this could be the perfect job for you as it offers many benefits including, competitive salary, flexible hours, the opportunity to develop both care and health skills, access to the wide range of NHS staff benefits, and to training courses run by both the RUH and Bath & North East Somerset Council.
The Homecare Assistant role is the great starting point for career opportunities across the NHS and Social Care, as well as those who would like a long-term career in care.
Experience is desirable but not essential as full training will be given.
However, you should be caring and reliable, sensitive to the needs of the people you work with.
If you are a car driver that would be helpful and we will pay your mileage to see your patients. We have some shifts that could work for those without access to their own vehicles, so if that's you, please get in touch to discuss.
What tasks will you carry out?
Each person that you work with will have individual needs, but the kind of support you might give includes:
Assistance with washing and dressing, getting in/out of bed and on/off the toilet
Help with cleaning or cooking
Prompting people to take medication
We value our care staff and want to reward you for the hard work you do. We offer:
Free uniform/PPE, free DBS check
Payment for all hours that you are working for us, including for training/induction and for travel between visits, also full holiday and sick pay
Ongoing training, plus opportunities for career development and progression
Flexible working patterns to enable a good work/life balance
Your mileage will be paid
Join us and help make a difference to peoples' lives in our communities.