Nurse Graduates
If you are soon to qualify and graduate as a registered nurse and are looking for a staff nurse positions, take a look at what we can offer you here at the Royal United Hospitals Bath.
We welcome applications from nurses graduating from adult nursing and Children and Young People degree programmes and have a range of exciting opportunities including rotational posts.
All of our job opportunities are advertised on the current vacancies page. To see what we currently have on offer please click here.
Who we are
We are an innovative and inspirational acute general district hospital. Our values are: Everyone Matters, Working Together, Making a Difference, and we strive to be a diverse and inclusive employer where we can all be ourselves and celebrate our diversity and the benefits that diversity brings to our teams and the care we provide. We are committed to offering you excellent learning and development opportunities and supporting you in your career.
We provide a range of acute services including medicine and surgery, services for women and children, accident and emergency services, diagnostic and clinical support services. The Care Quality Commission (CQC) who are the independent regulator of all health and social care services in England have rated the care we provide as outstanding. As a Trust we are proud of all our colleagues and work together to make a real difference to our patients, their families and each other.
Your wellbeing is important to us. When you join our RUH community you'll be invited to join our staff networks where you'll meet new colleagues, be able to discuss ideas and encourage conversations that can influence change for the benefit of everyone. What's more, there's lots of outside space for you to enjoy a restful break and enjoy views of the countryside. We have an outdoor heated swimming pool to help support your wellbeing and we're just a stone's throw away from Bath's city centre which has restaurants, independent shops, pubs and trendy bars.
What we can offer you
We will support you at every stage of your career to open doors, give you new opportunities and help you be outstanding in your role.
The preceptorship programme is the beginning of a lifelong journey of reflection, and the ability to self-identify continuing professional development needs to promote accountability, self-reflection and safe practice based on four foundational pillars of practice - clinical practice, facilitating learning, leadership and team work, evidence, research and development. When you start as a newly qualified member of staff you will have an allocated Preceptor and will be guided on this 6 to 12-month programme.
We will also offer you a number of in-house development programmes to help you flourish in your nursing career, such as shadowing opportunities, secondments, and our new Choose Your Own Rotation programme, which you can find out more by clicking here.
At the RUH we love to celebrate and recognise all our colleagues who go beyond the care of duty in caring for each other, our patients and families and recognise the very best performance at our annual staff awards ceremony.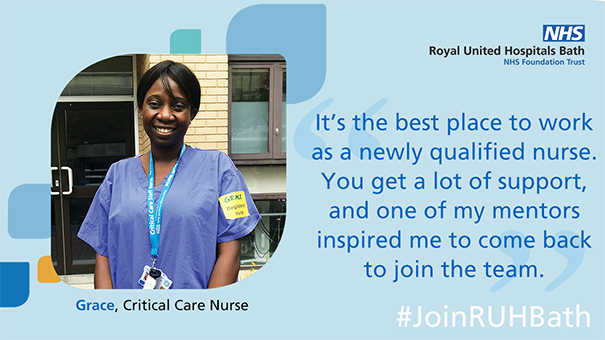 FAQs
Here are some of the popular questions we get asked by student nurses and graduates. Please read below and we hope this information helps you see why we are the best place for you to start your career.
We're guided by a set of clear goals and one of these is to be an outstanding place to work where staff can flourish. We are proud of the focus we have on making sure you feel engaged in all parts of the Trust, and we will look after your health and wellbeing and value the difference you each bring.
To welcome you on your first day of joining the Trust you will receive a welcome goodie bag full with useful items such as a reusable water bottle, pen, I'm new badge, notepad and free hot drinks voucher and useful information to help you get to know our Trust and find your way around as it's important to us to give you the warmest of welcomes.
We believe that everyone's well-being is important, and that supporting the health and wellbeing of RUH staff contributes significantly to the quality of patient care.
Throughout the year, your manager will be there to support you to be the best you can be by helping you build on your knowledge and experience, recommend training courses and accreditations for you to complete and by creating your own personal development plan.
We offer all staff access to our Employee Assistance Programme (EAP) which is a free and confidential support service available to RUH staff and their immediate family members. Staff can self-refer to our service which offers the following types of support:
1:1 counselling sessions in a comfortable and confidential space based on-site at the RUH
A regular programme of workshops and training sessions on a range of topics including Mental Health First Aid, Mental Health Awareness, Self-Care and Resilience and 'Stress Bucket and 5 Ways to Wellbeing'
Trauma risk assessments and debriefs, specialist psychological therapies, reflective practice and clinical supervision
We are committed to creating an inclusive workplace where all our colleagues feel they can be themselves, do well in their job and grow their careers. This includes colleagues who may have a disability. We understand that some colleagues will need adjustments to help them perform to the best of their ability – these can be changes to the built environment and furniture, the tools and technology they use in doing their job, aspects of the role or working arrangements.
If you would like to discuss this further, you can get in touch with our Equality and Diversity Officer by emailing: ruh-tr.EqualityandDiversity@nhs.net
Yes. Our Preceptorship Programme is open to all newly qualified practitioners with the Health and Care Professions Council (HCPC) or the Nursing and Midwifery Council (NMC) and will start after your induction.
The realisation that you are now responsible for your own practice can feel quite unnerving especially as you are also joining a new team and have lots of new information to try and absorb. Preceptorship is not about you revising your training but rather enhancing and maximising your professional development for the benefit of your patients, your department, the Trust and of course yourself.
Our brand new 'Choose Your Own Rotation' is an exciting offer for registered nurses – newly qualified and experienced. It's an opportunity to gain a broad range of clinical skills over 18 months to help you discover your passions and interest to progress in your future nursing career. You choose three areas that you'd like to work in and spend six months in each. You will also have the opportunity to have a placement at a local GP practice and at Sulis Hospital. To find out more please click here
I am currently undertaking my extended paid placement at RUH, will I get supernumerary time once I change roles?
Yes, you will get supernumerary time and protected time to complete induction and to support your transition into registered practice.
Our Talent Manager offers career conversations to all of our Nursing and Midwifery colleagues and will be happy to discuss your options and the opportunities available to you at the RUH. To arrange a career conversation please click here