Nursing Open Days 2019
Save the date, come to our Open Days to find out what it's like to join our fantastic team and help us make a difference.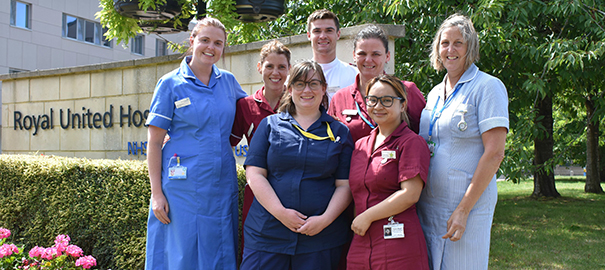 Staff Nurse (Band 5) Recruitment Open Day
Saturday 14th September 2019
10am - 1pm
Note venue change: Education Centre, Room C, RUH, Combe Park, Bath, BA1 3NG
Calling all registered, newly qualified nurses and Operating Department Practitioners – we're looking for experienced, enthusiastic, motivated nurses and ODPs who have excellent communication skills and are committed to delivering high standards of patient care in multi-disciplinary teams. We have a range of roles and careers across the Trust in; Medicine, Surgery, Women and Children's as well as looking for candidates to join our Bank and Pool staff.
Come and meet our friendly staff, take a tour of the RUH and you could be offered an interview on the day! For more information about the open day call our Recruitment team on: 01225 825831 or 07787 287422 or e-mail: ruh-tr.recruitment@nhs.net . Alternatively for the staff nurse job description and/or to make an application please click here.
Registered Nurse or Newly-Qualified Nurses
If you're looking for a change in your career, why not come and find out about our rotational programme that will give you a taste of what it's like to work in three different clinical areas, helping you decide which one is for you. At the end of the programme, you'll be appointed into a permanent role which suits you best.
Qualifying in 2019?
When you join our team, we will offer you a comprehensive 12-month preceptorship programme which will guide and support you through making that transition from student to developing your practice further. You'll find out more about this programme at our Open Day, so please come along.
If you would like to be part of the 'RUH family', come to one of our nurse open days. You'll meet our passionate and committed teams who will be on hand to show you around the RUH and will share with you the training and development opportunities available for staff as well as hear about the exciting developments that are taking shape at the hospital, including building a pioneering new Cancer Centre and Therapies Centre.
In return, we will give you a warm welcome, all the support you need to settle in and enjoy life at the RUH while pursing your chosen career. If you would like to apply we can interview you on the day, just submit your application form in advance, specify which ward or area you are interested in and if you are successful you will even receive a verbal offer.
There will be free parking on the day for attendees, just simply provide your registration number on arrival.
If you would like to find out more about the open day please contact our Recruitment team on:
01225 825831 or 07787 287422
We currently have vacancies for registered and newly qualified Nurses/ODPs in the following areas:
Medicine Division – Emergency Department, Older Person Unit, Parry (diabetes), MAU, Respiratory, Cardiology, Acute Stroke Unit and Oncology
Surgery Division – Trauma and Orthopaedics, General Surgery, Surgical Assessment Unit, Theatres (ODPs/Nurses) and Critical Care Services
Women and Children's Division – Neonatal Unit and Children's Ward
Bank and Pool staff

Inside the RUH
For the low-down on what it's like to work at the RUH, have a read of our staff profiles below:
Medicine Division
Oncology
Medical Assessment Unit (MAU)
Emergency Department
Surgical Division
Within the Surgical division we have a number of areas specialising in different surgical conditions /procedures. These include elective orthopaedic surgery, breast surgery and trauma and orthopaedics, including a high care bay within one of our trauma and orthopaedic wards. We also have two general surgical wards, which includes a bay for men undergoing head and neck surgery.
Our Surgical Admission Unit includes a renowned Emergency Surgical Ambulatory Care service. Patients are admitted either directly to the ward or via the Emergency department. Our Surgical Short Stay Unit cares for patients' after surgical procedures from all surgical specialties where the length of stay is 1-2 days.
Our Critical Care Services provides care for 13 level 3 / 2 patients.
Children's Division
We pride ourselves on providing the highest quality of care to our babies, children, young people and their families. The high level of care that we provide was recognised as outstanding by the CQC in 2016.
Dyson Neonatal Unit:
Our award winning Neonatal Unit is purpose-built, and comprises 21 cots. We are designated as a level 2 unit with four intensive, three high dependency and 14 special care cots serving a birth population of 5,300 deliveries a year. We have an outreach team and are actively involved in the South West Neonatal Network.
Children's Unit:
Our Children's Unit comprises a paediatric assessment area, ward, and dedicated children's outpatients. Our ward consists of 33 in-patient beds, a paediatric assessment unit and children's outpatients. We care for children and young people with a variety of conditions including medical, surgical (general, orthopaedic, ENT) and shared care oncology. We offer our Registered Nurses a structured orientation programme and excellent development opportunities.
Bank and Pool Division
As a bank Staff Nurse (Adult's and Children's) we can offer regular and occasional work to suit your needs. We have flexible working patterns such as early mornings, days, nights and weekends – so you can work around other commitments.
We will also act as your confirmer in the revalidation process and if you're a regular Bank-only worker, you'll have the chance to attend revalidation workshops.
For further details about bank and pool work visit our dedicated Bank and Pool page.