Oncology Services

To go directly to this page in future, please
click here to add this page to your favourites.
Specific Cancers:
Upper GI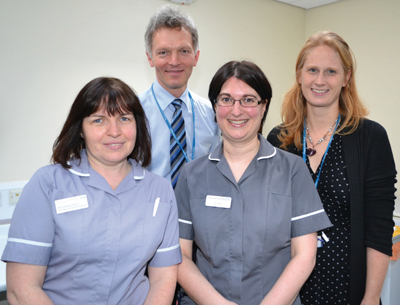 Patient Information Leaflets
Patient Information Leaflet Oesophagus Stomach Cancer
Contact Us
Jo Price
Macmillan Upper GI Nurse Specialist
Voicemail: 01225 821453

Secretaries
Mr Krysztopik
Telephone No: 01225 824545

Dr Medley
Telephone No: 01225 824317
Clinics/Times Available
Mr Krysztopik runs a weekly outpatient clinic on a Thursday afternoon
Dr Medley runs oncology clinics on a Monday, Tuesday and Wednesday morning every week
The service
The Upper GI Cancer Service provide surgical, oncological (chemotherapy/radiotherapy) and palliative treatments for people with oesophageal, gastric, pancreatic and bilary cancers.
Endoscopic Ultrasound Scans for staging are done at Bristol.
Situated in RUH Central on the second floor.
There is an endoscopy unit and clinic rooms for outpatient consultations
The Team
Upper GI Surgeons
Mr Richard Krysztopik (lead)

Oncologists
Dr Louise Medley
Dr Emma De Winten

Nurse Specialist
Jo Price

Clinical Radiologist
Dr Andrea Phillips (lead)
Dr Stephen Hayward

Consultant Histopathologist
Dr Leigh Biddlestone

Gastroenterologist
Dr John Linehan
Dr Tina Mehta
Dr Julia Maltby
Dr Jonathan Quinlan
Dr Terrence Farrant
Dr Ben Colleypriest

MDT Coordinator
Racheal Goble
Yvonne Geddes

Diagnostic Sister
Tina Thresher
Extended members of the MDT
Palliative Care
Dr Marina Malthouse and Nurse Specialists

Clinical Psychologist
Mike Osborn

Nutrition Nurses
Zoe Warman and Judith Bruce

Dietician
Katherine Piri (Surgery)
Useful Links
Gastro/Oesophageal Support and Help (GOSH)
Local Support Group
Contact Jo Price for details
Voicemail: 01225 821453
Oesophageal Patients' Association
Telephone No: 0121 704 9860
Email: opa@ukgateway.net
Website: www.opa.org.net
An organisation of people who have had, or still have cancer of the oesophagus