Education, Research & Development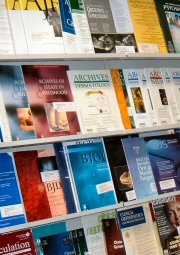 Academy Library services are available to all NHS staff working in the locality and students on placement. Members of the public also are welcome to use the Library by arrangement with the Head of Library Services.
The Postgraduate Medical Centre focuses on delivering Trust and General Practice Medical and Dental education to the Royal United Hospital and Bath Community, post graduate doctors and dentists in training.
The Centre is available for the teaching of undergraduate medical students and all healthcare professionals. Teaching sessions are supported by a specialist staff.
Millennium eLearning Modules and Mini guides for RUH & Community staff
Tea Trolley Training is a novel method of providing multidisciplinary team training in the workplace. Short, succinct 'bite-sized' teaching sessions are brought to staff during their normal working day (or even night), with the subsequent reward of tea and cake!
South West (Bristol) Radionuclide Radiology Subspecialty Training Programme emphasises interpretation of scintigraphy for those in Radionuclide Radiology Subspecialist Training.
The South and West Cystic Fibrosis Database records information about CF patients in the region with the aim of monitoring and auditing the care provided, and to support research taking place within the population.
The Resuscitation Department is based in the Education Centre and is part of the Clinical skills team. The team is responsible for developing and delivering training in all aspects of clinical skills, care of the critically ill and resuscitation skills.
Useful education links