Oncology Services

To go directly to this page in future, please
click here to add this page to your favourites.
Specific Cancers:
Lung Cancer Service
The Service
The Royal United Hospital lung cancer service involves several departments and many staff members, some of whom are based in the Respiratory Department. The full lung cancer
multi-disciplinary team includes; 5 respiratory consultants, a thoracic surgeon, a consultant oncologists, 3 lung nurse specialists, 3 lung navigators, a cancer co-ordinator, 5 consultant radiologists, a consultant histo-pathologist and palliative care nurses.
LIFT (Lung Investigation Fast Track) Clinic
Patients referred by their GP with suspected lung cancer are seen in the LIFT clinic. These clinics take place every morning Monday – Friday in the Respiratory Department.
At the LIFT clinic appointment, the respiratory doctor may ask about known medical problems, symptoms, medications, smoking history, asbestos contact, employment history and social situation. The respiratory doctor will also perform a physical examination.
The doctor may request investigations, prescribe medications or refer to other specialist doctors.
We welcome patients bringing chosen family or friends with them for the consultation. Patients are free to ask any questions and express any concerns. It is sometimes helpful to write a list of questions to ask the doctor. It is also helpful if patients bring details of any medications to the appointment and any other information they think may be relevant to the doctor. 
Appropriate investigations are then requested. These may include one or several of the following:
Bronchoscopy
EBUS (Endobronchial Ultrasound)
PET scan
CT guided biopsy
MRI scan
Lung function tests
Blood tests
These investigations are all done at the RUH.
If a surgical procedure is required to make a diagnosis, this will be performed at University Bristol Hospital Trust (formerly known as Bristol Royal Infirmary), in the centre of Bristol. The lung cancer service has close links with the Thoracic Centre at the University Bristol Hospital Trust.
All patients with suspected lung cancer will then be discussed at the weekly multi-disciplinary team meeting (MDT), which takes place every Thursday morning, before being seen again in a LIFT clinic to discuss the results.
If a diagnosis of lung cancer is confirmed, the Respiratory clinic doctor will refer patients to an appropriate specialist to receive the best possible treatment. 
Lung nurse specialists
A lung nurse specialist is present in clinic for support whenever possible. In their absence, patients can be given their contact details and information.
Patients can contact the lung nurses for support and information at any stage. The lung nurse specialists liaise with the Respiratory team, the oncology department, the surgical team, GP's and some community services to ensure continuity of care.
Lung nurse specialists :
can discuss the diagnosis, provide advice and information regarding tests that are needed, advise on benefits and refer on to Support Workers, advise on controlling physical symptoms, give information about any treatments that are offered and give time to talk about any worries or concerns
do not give test results via the telephone
are usually available Monday – Friday, between 9am-4pm 
Lung Navigators
The two Lung Navigators are available 8:30am - 4:30pm, Monday – Friday. They are situated in the same office as the Lung Nurses. They answer the telephone during the day and solve any patient or health care professional queries, liaise with the Lung Nurses and Respiratory consultants, co-ordinate clinic bookings and the booking of tests, liaise with other Trusts and GPs to streamline patients' journeys through the lung cancer services.
Respiratory Department
We are situated in B49 RUH Central, on the second floor.
In the department there is a lung function testing service. The offices for the Respiratory Nurse Specialists, the lung nurse specialists, the Respiratory Consultants and their secretaries are also based here.
Treatment
Treatment options include:
Radiotherapy is mainly performed at the RUH but occasionally patients may need to travel to the British Haematology and Oncology Centre for certain treatments
Chemotherapy and Immunotherapy are provided at the RUH in the Chemotherapy suite
Lung cancer surgery will be performed at the University Bristol Hospital Trust
Patients with recurrent pleural effusions may be seen in the Pleural Procedures clinic for review and drainage. This clinic is on Tuesday mornings and Thursday mornings in the Respiratory Department. Patients may also be booked to be seen by a consultant outside of these hours. The Lung Nurses can book into the Pleural Procedures clinics.

Any Complimentary Therapies can be organised in the community by the patient or some GP surgeries.
Oncology Department
We are situated in A12 RUH North on the first floor. There is a Chemotherapy suite for patients having chemotherapy and immunotherapy.
Service team/core members of the Multi-Disciplinary Team (MDT)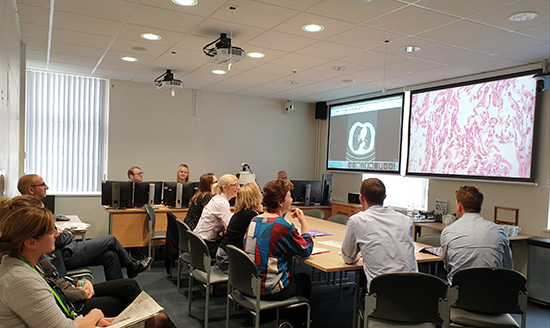 Lung Cancer Lead Clinician
Dr Vidan Masani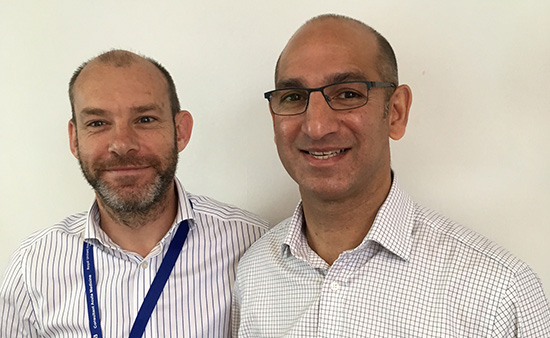 Pleural Consultants : Dr James Walters & Dr Vidan Masani
Consultant Lung Cancer Physicians (Rotational Post)

| | |
| --- | --- |
| Dr Noeleen Foley | |
| Dr Clare Marchand | |
| Dr Vidan Masani | |
| Dr Sharon Sturney | |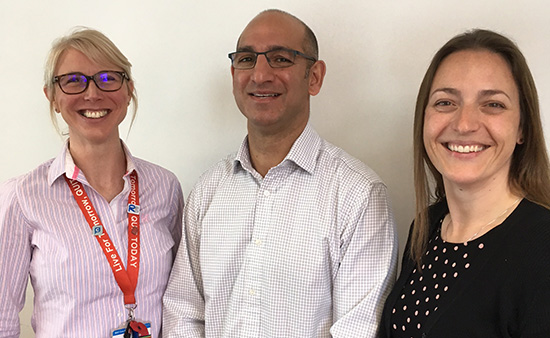 Dr Rebecca Mason, Dr Vidan Masani & Dr Sharon Sturney
Consultant Clinical Oncologist

| | |
| --- | --- |
| Dr Ashley Cox | |
Pathology Consultant
Dr Simon Rose
Radiology Consultants

| | |
| --- | --- |
| Dr Toby Hall | |
| Dr Ben Hudson | |
| Dr Jonathan Rodrigues | |
| Dr Alison Sandeman | |
| Dr Caroline Styles | |
Lung Cancer Nurse Specialists
- Eunice Eggleton
- Ros Goldsmith
- Bernadette Panes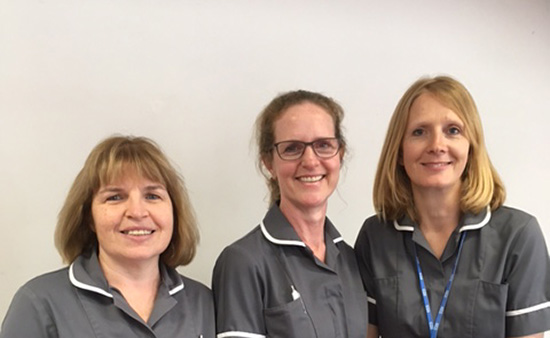 Thoracic Surgeon
| | |
| --- | --- |
| Mr Tim Batchelor | |
Lung Cancer Navigators

- Claire Summerfield
- John Vickers
- Charlotte Smith
MDT Co-ordinator
Kim Sims
Contact
For any query regarding the service please contact :
Lung Cancer Navigators
- Claire Summerfield, John Vickers and Charlotte Smith on
01225 82 1456
.
Lung Cancer Nurse Specialists

- Telephone No: 01225 82 1847
Eunice Eggleton

Ros Goldsmith
Bernadette Panes
Secretaries:
Dr Foley – Sarah Cooper : Telephone No:
01225 82 4531
Dr Marchand – Dawn Gallagher : Telephone No:
01225 82 4227
Dr Masani – Charlotte Smith : Telephone No:
01225 82 1841
Dr Sturney – Debbie O'Rourke : Telephone No:01225 82 1707
Other Services
Outpatients can be supported in the community by their GP's and District nurses. The GP surgery can arrange occupational therapy and social worker assessments and arrange care in the community.
Palliative care services are offered by the local hospice : Dorothy House
GP's or the lung nurse specialists can refer patients and relatives to the palliative care services.
The RUH has a Macmillan benefits advisor who can be accessed via the cancer information centre, who will be able to advise patients and relatives on benefit entitlements.
RUH Macmillan Cancer Information Centre
Situated within A12 in Oncology they offer support and advice including written literature to patients and their families. They also arrange Health and Well-Being Days for all patients and their families.
Contact Tracey Langton, Cancer Information Nurse Specialist
Telephone No: 01225 82 4049
Clinics
For diagnosis and seeing new and follow-up patients.
LIFT (Lung Investigation Fast Track) clinics: Monday – Friday 9am – 1pm.
External website links