Oncology Services

To go directly to this page in future, please
click here to add this page to your favourites.
Specific Cancers:
Histopathology
Overview & Contact Details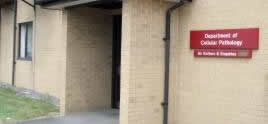 Department of Histopathology
Bath Royal United Hospital
Combe Park
Bath
BA1 3NG
Phone no: 01225 824720

Opening hours:
Monday to Friday, 09:00 – 17:30
Histopathology is the study of human tissues in order to diagnose and monitor diseases. The Histopathology department provides a routine tissue pathology service, including frozen sections for rapid diagnosis of surgical specimens, special stains and immunohistochemistry. The histopathology department receives tissue specimens from patients taken during surgical or diagnostic procedures and a small number taken at post-mortem examination. The specimens are processed and thin sections cut and stained for microscopical examination to determine the underlying disease process.
Qualified biomedical scientists (BMSs) with the help of medical laboratory assistants (MLAs) carry out the technical work. The pathologists produce a report on each specimen, which is typed and issued to the appropriate clinician/doctor.
The Histopathology department investigates over 20,000 requests per year. Patient specimens may be received from several sources, including operating theatres, wards, endoscopy suites, outpatient clinics, other outlying hospitals and from GPs.
The department is fully computerised and all GP practices now receive a proportion of their pathology results electronically. The department is in the process of implementing a new computer system.
Tests
Grouping
Test/Procedure
Histopathology
Diagnostic histology
Histopathology other
Further information
Further information