Oncology Services

To go directly to this page in future, please
click here to add this page to your favourites.
Specific Cancers:
Safe Soft Bandaging Technique
Information and video for healthcare professionals.


Lymphoedema
Contact Us
ruh-tr.LymphoedemaClinicInfo@nhs.net
Lymphoedema Practitioner
Lymphoedema Clinic
North Wing, Zone A12
Oncology Department
RUH Bath
Tel: 01225 821501
Email: ruh-tr.LymphoedemaClinicInfo@nhs.net
Referrals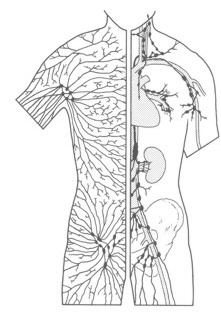 Lymphoedema clinic referral form
Early referral to the clinic will give the best chance of maximum improvement and control of the condition as cure is not possible.
Referrals are accepted for out-patients with secondary cancer-related Lymphoedema and children with Lymphoedema by letter or using the attached referral form on the documentation pages. Inpatient referrals may be telephoned.
There is no clinical service for adult patients with primary and non cancer-related secondary Lymphoedema. However telephone advice and staff education can be provided by the RUH service. Please contact the Clinic for more information.
Guidelines for managing lymphoedema related cellulitis
Guidelines for the management of oedema in advancing disease
Treatment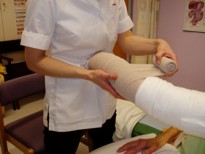 Lymphoedema is a progressive condition with no known cure, but the Lymphoedema Clinic can help reduce and control the swelling and provide psychological support to patients.
Management is based on skin care, exercise, compression, and lymphatic drainage (a specialist form of message).
An intensive course of daily multilayer bandaging and/or manual lymphatic drainage may be required if the limb is misshapen or fibrosis or lymphorrhoea are present.
Patients with Lymphoedema are at risk of developing cellulitis. This requires prompt treatment with at least a two week course of antibiotics (please refer to documentation for the current guidelines).
Useful Links