Visiting Information
Updated 16 June 2022
Coronavirus (COVID-19):
We are pleased to be able to further relax visiting restrictions to the RUH, however to reduce the risk of spreading infection some restrictions still apply in some areas.
If you have any COVID-19 symptoms (high temperature, new continuous cough, or loss or change to your sense of taste or smell) please do not visit regardless of the results of a lateral flow test.
Visiting A&E or an Assessment Department (e.g. SAU, MAU, OPAU)
You can bring
one other person
with you. At busy times, we may ask that the person accompanying you temporarily waits elsewhere until we are ready to assess you.
Attending Outpatient Departments
If you're
receiving results or discussing care
you can bring
one person
with you. If you are
attending a diagnostic appointment (e.g. x-ray or endoscopy)
where the results will not be available during your appointment, we ask that you continue to
attend alone
. If you are patient with a
physical or mental disability
or you are
under age 16
you can be accompanied by a partner, family member, friend or carer.
Face masks
Patients and visitors attending the following areas
must
wear a facemask:
Haematology
Oncology
Emergency Department
Intensive Care Unit
Medical, surgical and paediatric assessment areas
Patients who have confirmed or suspected COVID-19 and/or other respiratory symptoms are also required to wear a face mask.
All other patients and visitors are no longer required to wear facemasks but are welcome to do so if they chose. Social distancing is no longer a mandatory requirement but please do be mindful of other people's personal space.
We will continue to keep our hygiene stations fully stocked with masks and hand sanitiser. Hand hygiene remains a priority and we ask that you sanitise your hands on entry to the hospital and before entering individual departments too.
Please speak to the department you are visiting before you attend if you have any queries.
Inpatient visiting
Two visitors can attend at a time, this may also include children under the age of 18
Visiting hours differ depending on ward so please check before attending
Visitors must be free from COVID-19 symptoms
Visits will not be possible to areas closed due to infection, other than in exceptional circumstances
Exceptions apply for:
Children's Ward and Neonatal Intensive Care Unit.
Vulnerable adults – to be discussed with the senior nurse on the ward.
Patients nearing the end of their life.
Maternity
Support for women during their maternity journey:
For labour and birth you can have up to two birth supporters. That applies if you are receiving care from the RUH maternity services, and its local maternity birth units (Chippenham and Frome)
One support person can attend with you at our Outpatient Maternity Assessment areas (Day Assessment Unit, Chippenham, Trowbridge, Frome and Paulton or if you are seeing a midwife in a GP surgery)
One person can visit on Mary ward (antenatal and postnatal ward) between 9am and 9pm
If you require a longer stay on Bath Birthing Centre, you will also be able to have one support person between 9am and 9pm
One support person can stay overnight for the first night after for the birth. Additional overnight stays will be considered on an individual basis depending on clinical need.
Siblings can visit the postnatal ward but this should be arranged in advance with the ward team
One support person can attend all maternity ultrasound scans
Send a message to your loved one
If you're unable to visit, we can help you to keep in touch by passing on a message to your loved one.
The RUH is committed to supporting and facilitating virtual contact across the organisation.  All inpatient areas have an IPhone to support patients with ongoing contact with their family and friends. We also ask, where possible, that patients bring in their own mobile device and charger and that the lock mode is disabled.
We can also help by passing on a message to your loved one in hospital. This service is designed to let patients know that their friends and loved ones are well, thinking of them and sending their best wishes.
Step one: Email ruh-tr.keepingintouch@nhs.net or call

01225 826319

to tell us what your message is. Please provide the patient's name, date of birth, location or ward if known, and your details including your relationship to the patient.
Step two: Your message will be delivered to the patient using our in-house postal service, Monday to Friday.
Unfortunately we are unable to facilitate sending messages back from patients to their family or friends.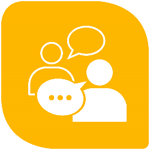 Patient, Family & Carer Experience Matters
We have added to the RUH Keeping in Touch Service and now have a small, dedicated team of Family Liaison Facilitators (FLFs). The FLF team are working across admitting wards, older people's wards and medical wards.
The FLF Service is available 7 days a week.
The FLF role is to:
Telephone families of patients who are unable to telephone their families themselves – update families on patient with non-clinical information (eg. how the patient slept, whether they are eating, etc)
Arrange virtual visits between families and patients using an iPad or iPhone
Arrange the collection and dropping off of patient property
To contact the FLFs:
Monday to Friday: email ruh-tr.keepingintouch@nhs.net or call 01225 826319 and ask them to bleep the FLF on duty.
At weekends: call switchboard on 01225 428331 and ask them to bleep the FLF on duty.