Vascular Surgery / Studies
Disadvantages of EVAR compared with open surgical repair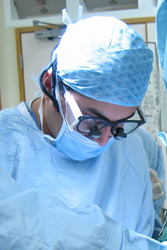 EVAR is a new technique and we do not know what the long-term durability and reliability of the procedure and the stent-grafts used are. Open surgical repair is tried and proven with excellent long-term reliability and durability of repair.
Recent clinical trials suggest that there are complications related to the procedure in approximately 20% (or 1 in 5) of patients who have EVAR. The majority of these complications can usually be treated, if necessary, by minor surgical or radiological procedures, and the incidence of complications appears to be reducing as experience in the technique and design of the stent-grafts used improves.
In order to detect any complication we need to follow-up EVAR patients carefully, particularly in the early stages. To do this, we carry out regular CT scans at 1 month, 3 months and 12 months after EVAR, then every year after that, to make sure there aren't any problems. This is also helpful in providing us with information about the long-term reliability of EVAR.
Since the reliability of open surgical repair is well-established, there is no need to scan patients after open surgical repair. Patients are reviewed in the vascular surgical outpatient clinic about 6 weeks after open surgical repair and if all is well, no further follow-up is required.