Vascular Surgery / Studies
Advantages of EVAR compared with traditional open surgery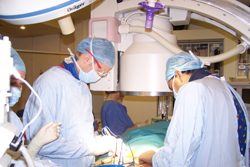 EVAR is usually performed under a regional or spinal anaesthetic and sedation, which are administered by an anaesthetist. This means that you are numbed below the waist and are sleepy, but avoids the risks associated with a general anaesthetic. Open surgery would always be performed under a general anaesthetic.
EVAR is performed through small groin incisions whereas open surgical repair requires an abdominal incision, which is much larger and generally more uncomfortable.
Your hospital stay following EVAR is usually about 2 days. You are cared for on a vascular surgical ward and there is usually no need for admission to the Intensive Care Unit.
Following open surgical repair you would routinely be admitted to Intensive Care and your overall length of hospital stay would normally be approximately 10 days.
There is generally minimal blood-loss during EVAR and there is usually no need for blood transfusion. Blood-loss in open surgical repair is generally greater and often patients require transfusion of blood or blood-products during open surgery.
Recent clinical trials show that fewer patients die as a result of their procedure within the first 30 days following their procedure if they undergo EVAR rather than open surgical repair. This is known as the '30 day mortality rate' and is approximately 2% following EVAR compared with 5% following elective open surgical repair.
---
Next Section: Disadvantages of EVAR
---