Vascular Surgery / Studies
Open Aneurysm Surgery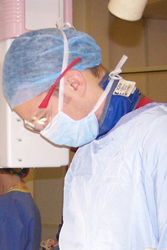 During an open aneurysm repair, your surgeon makes an incision in your abdomen and replaces the weakened part of your aorta with a fabric tube called an aortic graft.
This graft is made of a strong, durable, man-made plastic material, in the size and shape of the healthy aorta.
The graft is sewn into place and  acts as a replacement blood vessel. The surgery usually takes about two to four hours to complete.
Your surgery will take place at Southmead Hospital (part of the North Bristol NHS Trust). Following the surgery, you may stay in hospital for 4 to 7 days. Depending upon your circumstances, you may also require 6 weeks to 3 months for a complete recovery.
More than 90 per cent of open aneurysm repairs are successful for the long term.
---
Next Section: What is EVAR?
---