Vascular Surgery / Studies
Overview of the Service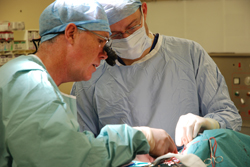 Vascular surgery is a speciality in which diseases of the vascular system, (arteries and veins) are managed by medical therapy, minimally-invasive catheter procedures, and surgical reconstruction.
Vascular surgery (with the exclusion of varicose vein surgery, day case, and angioplasty) now takes place at Southmead Hospital (North Bristol NHS Trust) as part of the Vascular Network.
The Vascular Studies Unit is an assessment unit which carries out non-invasive investigations of vascular disease such as treadmill exercise tests and ultrasound scans of the arteries and veins. It is staffed by vascular scientists and specialist nurses.