Breast Unit
Screening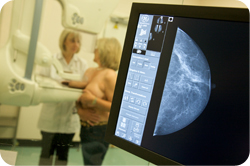 Our policy is based on the NICE Guidelines for Familial Breast Cancer.
If you fall into the moderate or high risk group you will be eligible for annual mammograms between the ages of 40 and 49 years. This means that once you are enrolled on our screening programme you will automatically be invited for a mammogram every year. Your first mammogram will be offered to you on the day of your family history breast clinic appointment.
Women over the age of 50 are usually discharged to the NHS Breast Screening Programme which offers 3 yearly mammograms to all women between 50 and 70 years of age. Screening between 47 and 73 years is being piloted in some areas.
There are a few very high risk women who fall outside the 40 to 50 year age range to whom we would offer an individualised mammogram screening strategy. Women who are known to carry a gene fault (a BRCA1 or BRCA2 mutation) and are:
30 to 39 years will be offered annual magnetic resonance imaging (MRI)
over 50 years will continue to be offered annual mammograms
If you are under 30 you will not be offered mammograms as the radiation risk is more of a concern. Furthermore, a younger woman's dense breast tissue makes a mammogram more difficult to interpret. However you should remain breast aware and report any new symptoms to your GP.
FH02 mammogram screening study for 35 - 39 years
We are currently participating in the FH02 family history screening mammogram study. You may be eligible to participate in this and to start screening from the age of 35 years. Please see the website to check and ask your GP for a referral to our family history breast clinic:
Cancer Research Uk: Family History Breast Cancer study
For more info on Family History Screening and the pros and cons we suggest you read:
Breast Screening for Women with a Family History of Breast Cancer
Link to PDF document opens in a new window
NICE Guidelines
Link to external site opens in a new window
---
Next Section: Referral to the Clinical Genetics Department
---