Breast Unit
Your family history clinic consultation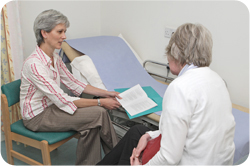 If you are going to be offered an appointment in the Family History Breast Clinic we will let you know as soon as we receive your completed family history questionnaire.
Closer to the appointment date we will send you an appointment letter which will include information about:
Date, time, place of your appointment
Our policy if you do not arrive (DNA) at your appointment
Our policy if you cancel your appointment
What to expect at the consultation
The appointment normally lasts 30 - 45 minutes and you will be seen by either the Family History Breast Specialist doctor, the Breast Care Nurse or Senior Radiographer both of whom work under the doctor's supervision.
At the start of the consultation we will draw your family tree (or pedigree) by reviewing the details of your family history of breast or other cancers. We will then go on to discuss a number of things including:
Risk assessment - low/moderate/high
Referral to genetics service where appropriate
Appropriateness of screening for you - mammograms/ MRI
Other risk factors - hormonal and lifestyle
Past and current breast problems
You will be offered a breast examination which you may choose to accept or decline. Your decision might be influenced by whether your referring doctor has examined you recently, whether you have any symptoms or perhaps how confident you are about checking your breasts.
A number of information leaflets will be given to you and there will also be an opportunity to raise any other relevant family history issues
If you are eligible for a mammogram this will usually be offered to you on the same day. The result will be sent to you and your GP 2-3 weeks later.
A letter summarising your consultation will be posted to both you and your GP after the appointment.
There are a few other points of advice which you might find helpful to know about before your consultation:
Gather Information
Find out and confirm as many details as possible about your family history before your appointment
Bring a companion
You are very welcome to bring your partner or a friend with you. Not only will they keep you company if there is a delay, but you might find it helpful to have someone else listening as you are likely to receive a lot of information during your consultation
Bring a book
Every effort is made to see patients punctually but for a number of reasons this may not be possible. If you are having a mammogram this will result in a possible further delay
More details about clinics can be found on:
---
---