Breast Unit
The referral Process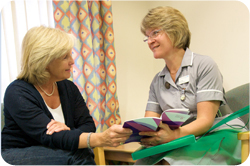 If you are at increased risk of developing breast cancer, you will be referred to the Family History Breast Clinic by your GP or another doctor.
Your risk will be assessed by taking into consideration your age, the age of your relatives at diagnosis, how many were affected and how closely related you are to those relatives. This information will then be used to apply the national guidelines.
For further information about factors that might influence your risk, the charity Breast Cancer Care UK has an excellent booklet: "Breast Cancer in Families".
On page 10 of the booklet you will find very useful information about what sort of family history details are likely to raise your risk.
The referral process
Click on the flowchart to view a larger image in a new window.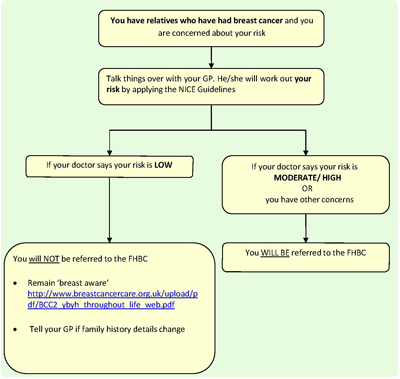 FHBC = Family History Breast Clinic
FHQ = Family History Questionnaire
---
Next Section: After your Referral
---