Work Experience & Apprenticeships
Work Experience
Work experience (WE) applications for April-August are now CLOSED. If you have submitted an application, you will be notified within the next 6 weeks to see if you were successful.
For further information about careers in the NHS, visit our 'Advice and Support page'. You will be able to find links to other helpful websites as well as resources about the different jobs available in the hospital.
The sections below provide more information about our work experience programme.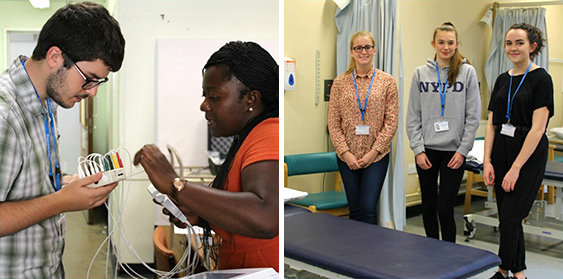 To read more, click on the title for the relevant section below (then click again to close it).
Applications for work experience April 2023 - August 2023 are now OPEN.
Keep an eye on this page - when applications are open, we will update the Current Work Experience Opportunities section of this page and include details about the type of work experience available, closing date for applications
You can keep informed about when adverts go live by following @RUH_Careers on Twitter, liking the RUH's Facebook page or following RUHBath on Instagram
(*you need to be aged 13 or over to hold these social media accounts).
This process is the only way in which you can access work experience at the RUH. We will receive all applications centrally. The aim is to have a clear central application process to give everyone a fair chance. Please do not approach our staff members directly and ask them to supervise your work experience.
You need to be living and/or studying in the RUH's catchment area. This includes Bath, Chippenham, Corsham, Melksham, Trowbridge, Bradford on Avon, Westbury, Frome, Keynsham, Brislington and surrounding villages. If you are not within this catchment, contact your local hospital in the first instance to see how they can support you.
Our work experience is only available to people in year 12 or 13 or in their first or second year of college. We do not offer work experience to students in years 10 and 11.
You can only do work experience if a supervisor in the relevant department is available
to fully supervise your time at the RUH and if the Widening Participation Team has completed your ID checks and referencing
The Trust is unable to offer work experience in the following clinical areas: Theatres, Critical Care, the Emergency Department, any Paediatric area and Maternity
Our policy covers short periods of work experience only. Work experience programmes are designed to provide a taster of hospital life and are typically 2 consecutive days. Shorter placements mean that we can better match demand with the work experience opportunities available
This application process does not support longer placements (e.g. an elective placement that lasts several weeks and is part of a university degree). For these, you would need to contact the relevant department directly to see if they are able to welcome you
Visit our Advice and Support page for information about careers in the NHS including resources and helpful links. This page also lists other activities that you could get involved with at the RUH
Visit our Apprenticeship page for information about apprenticeships at the RUH
We prefer all queries related to work experience - including telephone and email enquiries - to be made by students themselves, rather than by friends, parents or guardians enquiring on their behalf. We believe that communicating with NHS staff directly is an excellent learning opportunity for students.
To contact the Widening Participation team, email ruh-tr.careersengage@nhs.net or call us on 01225 826041 or 01225 821089.
Click here to read our Careers Engagement and Work Experience Policy.
To find out more about safeguarding, read the RUH Safeguarding Children and Young People declaration.
As part of RUH work experience, we collect and process personal data relating to work experience placements. We are committed to being open about how we collect and use that data and to meeting our data protection obligations in accordance with the Data Protection Act 2018 and GDPR (General Data Protection Regulation).
A privacy notice is a statement published by an organisation which explains how personal and confidential data about individuals is collected, used and shared. To find out more, click here to access our Careers Engagement Privacy Notice.