Living in Bath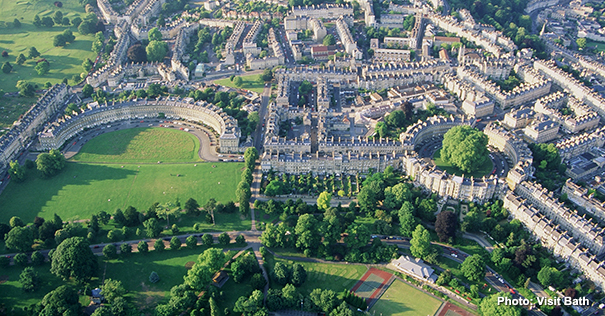 A world-class city
Bath is a beautiful small city. With its diverse range of restaurants, independent shops, beautiful Georgian architecture, cultural and sporting venues, theatres, pubs and trendy bars, it attracts tourists from across the world, and is classed as a UNESCO World Heritage site.

Located in the valley of the River Avon, Bath is easily accessible from the M4, just over 90 miles west of London and 11 miles south-east of Bristol.

The city has two universities: the University of Bath and Bath Spa University, and Bath College provides further education. Sporting clubs includes Bath Rugby and Bath City F.C. while TeamBath is the umbrella name for all of the University of Bath sports teams.

Find out more about living in Bath by visiting the following websites:
Bath Life






Shopping

Bath is a popular shopping destination as the city offers a mix of independent shops and fashionable high street brands. Southgate is Bath's biggest shopping centre. It's located next to Bath Spa railway station and has a mix of retail stores and restaurants.

To find out more about shopping in Bath visit www.bath.co.uk/shopping-areas

Entertainment

There's always something happening in Bath. Come rain or shine, you'll find lots of entertainment, whether it's in the city centre, park or surrounding villages, there's plenty of activities and events taking place throughout the year – especially the Bath Festival and Jane Austen Festival.

Leisure

When you have more time, take a walk around the city's famous landmarks where you will see the Pump Rooms, the Abbey, Pulteney Bridge, the Royal Crescent, the Circus and Royal Victoria Park to name but a few.

Another pleasant walk is to follow the tow path along The Kennett Avon Canal. By bicycle or foot, you'll enjoy the beautiful sights of the canal passing through Bath, and if you're up to a longer trek, why not pack lunch and head to Bradford-on-Avon, stopping at the two Aquaducts; Dundas and Avoncliff.

Bath is also close to the most wonderful places to visit including; Dyrham Park, Castle Combe, Stourhead house and garden, Lacock, Bradford-on-Avon, Westonbirt Arboretum. For more information about the places close by visit: www.bath.co.uk/surrounding-area
Take a closer look
Housing

Buying a place to live in Bath can be expensive; however there are some lovely villages and towns surrounding Bath, all within reasonable commuting distances to the RUH.

Some of our staff choose to do just that and travel into work each day from nearby villages and towns such as: Saltford, Keynsham, Paulton, Frome, Radstock and Chippenham.

If you are looking to relocate and would like to live in Bath, take a closer look at these areas in Bath.

Schools

Bath has excellent educational opportunities, with a number of primary and secondary schools, and colleges.

There are also 15 independent private schools in Bath and North-east Somerset. The city also benefits from its close partnership with its two major universities: the University of Bath and Bath Spa University.

For further information about education, click here. To find out about the independent schools in Bath, click here.

Transport

Click here to view public transport options when travelling to the RUH.