Recruitment Open Days
Our doors are always open at RUH Bath
Aseptic Services (Pharmacy) Careers Event
Date and time
: Monday 30 January 2023, 10am - 2pm
Location
: Career Zone, inside the main entrance of RUH Bath
We are looking for an enthusiastic and self-motivated people to join our growing team of Assistants, Operators and Technicians. If you thrive on data and facts, have a good attention to detail and like to work in a methodical and logical way, we can teach you the rest. We offer extensive career pathway development, allowing our staff to work their way from assistant level to senior manager/lead technician roles, supporting them to do so through funded training. Interested? Come to our open day and find out more.
Spring Nursing, Midwifery and ODP Careers Event
Date and time
: Saturday 25 February 2023, 10am - 2pm
Location
: Career Zone, inside the main entrance of RUH Bath
If you're a student, newly qualified or experience nurse, midwife or ODP we are inviting you to come and talk to our colleagues and find out about the variety of roles and development opportunities we have in nursing, midwifery and our theatre teams. On this day, you'll have the opportunity to take a look at our wards and theatres, see the development of the new Dyson Cancer Centre which will be opening in late 2023 and you could walk away with an interview and job offer on the same day.
School leavers Evening Careers Fair
Date and time:
Thursday 9 March 2023, 5 - 7:30pm
Location:
Education Centre, Building E7, RUH Bath, Combe Park
This event is for pupils in year 10 or above who live or study within the RUH catchment area. It's a fantastic opportunity to meet our staff and talk about the different careers in the NHS. We are encouraging pupils or parents to book a time slot either between 5-6pm or 6:30-7:30pm on Eventbrite. Booking is open until 10 February 2023 and spaces are being filled quickly.
Our Career Zone
We recently opened a new Career Zone at the RUH to showcase the wide range of opportunities available at our hospital and the fantastic benefits of working for the NHS.

Inside the Career Zone you will find a display of current job opportunities, information about the range of volunteering opportunities available and it is a place for existing staff to find out more about training and development opportunities.

If you are visiting our hospital and have time to stop, please pop by at any time to browse. The Career Zone will also be used to host recruitment events throughout the year.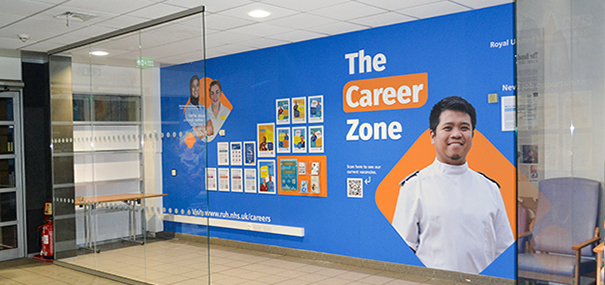 How to get in touch with us
You can find out about the opportunities we have for both permanent and bank staff by sending us your details and a member of our Talent Team will contact you.