Recruitment Open Days
Our doors are always open at RUH Bath
Paediatric and Midwifery Recruitment Open Day
Date and time: Saturday 10 June, 10 - 2pm
Location: RUH Bath, meet and greet in the Career Zone, main entrance
Come along on Saturday 10 June 2023 between 10am and 2pm to find out about the range of fantastic job opportunities we have on offer in our Paediatric and Maternity Departments at RUH Bath. Whether you are about to qualify, are newly qualified or an experienced staff nurse or midwife - we want to meet you to tell you about the great opportunities we can offer you.
You may be looking for your first permanent full-time role or a position to fit around your lifestyle - whichever it is, we are sure to have the perfect role for you. This event is for final year students on a Child Nursing degree, registered Paediatrics nurses, final year midwifery students, or registered midwives.
We'll be ready to greet you in the Career Zone, inside our main entrance and we'll guide you to our Paediatrics or Maternity departments. You will be able to join a tour, talk to staff about what we can offer you and interviews will be offered on the day.
To find out more and register your interest please click here.
Bath Careers Fair
Date and time: Friday 25 August, 10am - 2pm
Location: Guildhall, High Street, Bath, BA1 5AW
If you're looking for a new career, a part time role offering flexible hours or to return to work after retiring, come and talk to us at the Bath Careers Fair.
Our friendly staff will be on hand to talk about the range of job opportunities at the RUH - from administration and clerical roles to portering and cleaning, as well as finding out how you can start a career to become a nurse, midwife or allied health professional. We'll be able to provide you with helpful advice and tell you about the many staff benefits you can enjoy when you join team RUH.
To find out more about the event click here.
Our Career Zone
We recently opened a new Career Zone at the RUH to showcase the wide range of opportunities available at our hospital and the fantastic benefits of working for the NHS.

Inside the Career Zone you will find a display of current job opportunities, information about the range of volunteering opportunities available and it is a place for existing staff to find out more about training and development opportunities.

If you are visiting our hospital and have time to stop, please pop by at any time to browse. The Career Zone will also be used to host recruitment events throughout the year.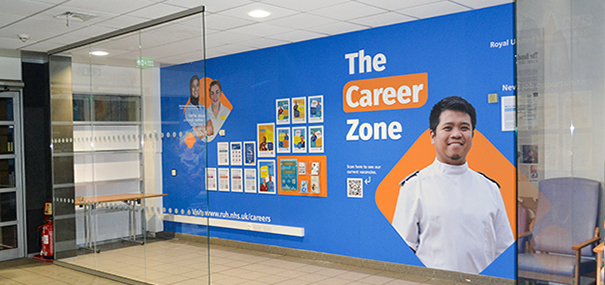 How to get in touch with us
You can find out about the opportunities we have for both permanent and bank staff by sending us your details and a member of our Talent Team will contact you.