Maternity
Baby Steps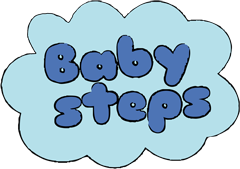 Baby Steps helps mums-to-be and their families prepare for parenting. Most classes in pregnancy focus on giving birth. At Baby Steps we talk about birth but can also help you think ahead to your new life with your baby.
Welcoming your baby into the world can be very exciting, but it can sometimes feel daunting. Baby Steps aims to help you cope with all the new experiences that will come your way.
What happens at Baby Steps?
You'll join a Baby Steps group with other parents-to-be. Together, we will talk about:
our babies' development
what could change for you and your partner
giving birth and getting to know your baby
caring for our babies and ourselves
people who can offer support
When you join a group, you will all meet each week. This may be online or face-to-face. Your group will be made up of other families at a similar stage of pregnancy.
The group starts around the 26th to 32nd week of your pregnancy. There are 6 meetings before and 3 meetings after your baby is born. Soon after your baby arrives, you will have a home visit (online or in person), to meet your baby and see how you are.
The whole group is friendly, comfortable and designed to give you and your family the support you need to begin your life together.
How to apply for a place
Ask your midwife to complete an interest form. The Baby Steps team will contact you to tell you more and offer you a place if there is one available. Places are given based on availability and individual circumstance and can only be offered to families living in Wiltshire.
If you are able to join a Baby Steps group we will arrange a time to meet with you in person or online and find out more about you and your family. We can tell you about the group in more detail so you'll know how to join in. Baby Steps is just one of the ways we support families to give their children the best possible start in life.
Find out more