| | |
| --- | --- |
| Bath Supraregional Tuberous Sclerosis Complex (TSC) Service for Adults and Children | B11 |
The TSC Team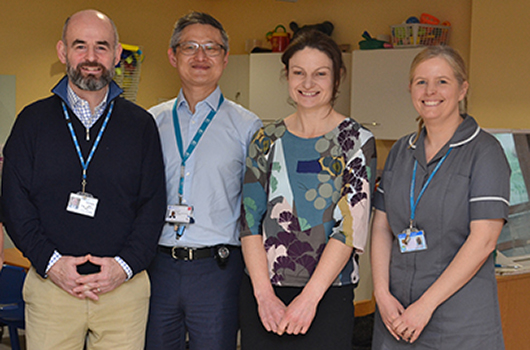 Professor Finbar O'Callaghan

Joint Head of the Supraregional TSC Service for Adults and Children.

Consultant Paediatric Neurologist, Great Ormond Street Hospital (London) PhD, MSc, FRPCH, FRCP

I am a Professor in Paediatric Neuroscience at the Institute of Child Health, University College London and have been a Consultant Paediatric Neurologist at Great Ormond Street Hospital (GOSH) since 2013. Prior to this, I was a consultant at the Bristol Royal Hospital for Children (BRHC) for 10 years. I have led the Bath TSC clinic since 2006, having joined in 1992 to complete my PhD with Professor John Osborne. I have led the GOSH TSC clinic since 2013.

My research interests are in TSC, infantile epilepsy and childhood stroke, with particular emphasis on epidemiology and clinical trials. I was the Chief Investigator of the International Collaborative Infantile Spasm Study (ICISS) and the Metformin in TSC (MiTS) trial. I am also the Secretary for the European Paediatric Neurology Society and President-elect of the British Paediatric Neurology Association.

In my spare time I enjoy supporting Manchester United and have previously played rugby.

Please note: Prof O'Callaghan does a monthly TSC clinic in Bath.




Dr Juliet Milne

Speciality Doctor in TSC

I qualified from Imperial College, London in 2004. I moved to Swansea in 2005 where I undertook general medical training as a senior house officer. I subsequently completed specialist training in Nephrology and General Internal Medicine in Wales in 2017. I have also undertaken some research into renal scarring at the Institute of Nephrology in Cardiff. I joined the TSC team at the Royal United Hospital in February 2020.

Outside of work, I enjoy spending time with my young family as well as running and road cycling.




Dr Ron Loh

Joint Head of the Supraregional TSC Service for Adults and Children.

Consultant Paediatrician with a Special Interest in Neurology (Cardiff)
MB BCh, MSc, MRCPCH ,BAO, DCH, DTM&H.

I qualified in Ireland and undertook paediatric specialist training in London, Bristol and then a neurology Fellowship in Australia.

I have a specialist interest in TSC, epilepsy and headache disorders. I was previously lead for Rare Diseases for the Genome Project and Academy Paediatrics. I am also a Consultant Paediatrician at the Noah's Ark Children's Hospital Cardiff.

In my spare time I enjoy an occasional round of golf.




Kirsten Slaney

Specialist Nurse in TSC
MSc, BSc, RNLD

I qualified as a nurse in 1999 and my first job was with adults with profound and multiple learning disabilities. I then worked with children and young people with learning disabilities first in a child development centre and then as a community nurse in Surrey, where I completed a Master's degree in Advanced Practice (Community Care). I relocated to the West Country in 2015 and became part of the TSC Team. My interests are in learning disabilities, behaviour management and sleep issues.

I have two young children who occupy much of my spare time but I also enjoy music, reading and ballroom dancing!




Charlotte Reed

Secretary for the TSC service

I have worked for the NHS for over 5 years and love being part of such a great organisation. I started as a receptionist in Audiology then moved to Paediatric Outpatients. I am now a medical secretary and the TSC Team administrator. I have a degree in Fine Art so spend most of my free time doing creative projects.
We work closely with several members of the Multi-Disciplinary Team including:
Mr Tim Bates : Consultant Urologist
Dr Louise Robinson and Dr Matthew Laugharne : Consultant Radiologists
Dr Dominic Fay : Consultant Interventional Radiologist
Dr Albert Power : Consultant Nephrologist
Dr Sharon Sturney : Consultant Respiratory Physician
The clinic also has strong links with the following teams:
Neurosurgery and Plastic Surgery Departments in Bristol
Bristol Royal Hospital for Children
Great Ormond Street Hospital, London