Breast Unit
Skin sparing mastectomy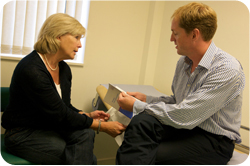 When undertaking a mastectomy with a view to reconstructing the breast at the same time the method of the mastectomy is frequently altered so that less skin is removed. This reduces the scars on the new breast and helps improve the cosmetic result of the reconstruction. It is called a skin-sparing mastectomy.
This procedure normally entails removal of the breast tissue through a circular incision around the areola. Thus the breast, areola and nipple are excised. Sometimes it is also possible to keep the nipple and areola as well.
The skin envelope of the breast is left intact, which obviously can lead to long-term better cosmetic results. Numerous studies have shown us that this is oncologically safe (cancer-safe procedure) with similar rates of local recurrence of tumour when compared to a standard, simple mastectomy (rates of local recurrence of about 5 – 6% at 5 years).
The main drawback of this procedure is that this skin envelope is really only skin-thin, and sometimes the blood vessels that supply it are simply not good enough to keep all of this skin envelope alive. Therefore, some people do have problems with delayed wound healing or even partial loss of this skin envelope in the days that follow surgery. This is called skin flap necrosis.
This complication is more likely to occur in those patients with impaired blood circulation in that area, such as patients who have had prior radiotherapy to the breast or in those who smoke. If skin flap necrosis does develop then it might require further surgery.
---
Reconstruction using an implant
Reconstruction using flaps of muscle, fat and skin
---
Also see
Breast Cancer Care
Link opens in new window
Breast Cancer Care: Breast Reconstruction Link opens in new window
General Hospital Information
Your Hospital Stay (link opens a new window)
Transport & Parking (link opens a new window)