Breast Unit
Recovery following breast reconstructive surgery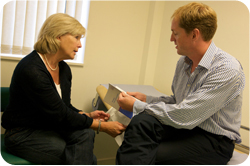 Surgery to reconstruct the breast is a big undertaking, especially if it is combined with a mastectomy. Clearly there are physical side effects (such as discomfort and tiredness) but frequently there are also psychological effects as well, such as anxiety, sadness and grief. So, recovery following this type of surgery may take many months.
Whilst the wounds will be sore and uncomfortable one of the main problems is actually tiredness and lethargy. Many women who've had this type of surgery notice that they are easily exhausted by simple, everyday tasks that would not have caused problems prior to the operation. So, it is important to thoroughly rest and recuperate afterwards.
Extra help and assistance will be required at home, especially during the first few weeks after discharge from hospital and if you have small children to look after. From the point of view of a timescale a period of between 2 – 3 months would be required to feel relatively normal again or to be able to return to work.
Initially after the operation the reconstructed breast is swollen and bruised and maybe quite distorted in shape and contour. It is often helpful to wear a specially designed bra in the post operative period. This can help with discomfort, can help to reduce post operative swelling and to help support the reconstructed breast whilst the tissues heal.
The Specialist Breast Care Nurse can help with advice about the appropriate style of bra to purchase prior to surgery.
It is important not to expect instant results following breast reconstructive surgery. It takes many weeks and months before all of the post operative swelling subsides, before the tissues and skin can relax and stretch and before we can really judge what the final shape and size of the reconstructed breast is really like.
Sometimes it is necessary to undertake further surgical procedures to help improve the cosmetic result of the reconstruction or to treat complications that develop after surgery. However, it is always important to view breast reconstructive surgery as a process rather than as one single operation.
Most patients would not expect to develop problems and complications following this type of surgery but a percentage of patients may do so. This could include things like a wound infection, delayed wound healing (or wound breakdown), as well as bleeding into the wound to form a collection of blood. In general most of these types of problems can be effectively and quickly treated.
However, there are some more significant complications that are important to explain in more detail:
Infection

If the wound does become infected there is a chance that this could compromise a breast implant (if one had been used for the reconstruction).

When this occurs it can sometimes be necessary to remove the breast implant for a period of time (many months) until the infection has been properly treated.
Delaying additional treatment

For those patients who are having a reconstruction at the time of their mastectomy it is important to understand that if problems and complications develop after surgery that occasionally it may be necessary to delay the administration of additional medical treatment such as chemotherapy or radiotherapy.

Such a delay is uncommon and when it does occur it is likely to lead to a delay that is measured in days and weeks rather than in months.
Flap Failure

For patients having a reconstruction with a tissue flap (such as a TRAM flap, DIEP flap or an LD flap). Rarely the blood supply to the flap may become compromised and fail in the post-operative period; within hours or days of the operation. This may cause either partial or total loss of the flap and the new breast.

Clearly this is a major problem and will require further surgery to help resolve the situation.

Thankfully this is a very uncommon problem, especially with the latissimus dorsi flap (as the blood supply is usually strong and robust).
---
---
Also see
Breast Cancer Care
Link opens in new window
Breast Cancer Care: Breast Reconstruction Link opens in new window
General Hospital Information
Your Hospital Stay (link opens a new window)
Transport & Parking (link opens a new window)