Endocrine Surgery
Thyroid Cancer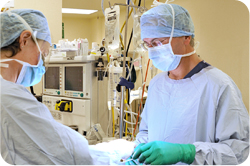 Thyroid cancer is one of the rarer types of cancer, accounting for only 1% of all cancer cases. Each year in England and Wales there is an estimated 1,200 new cases of thyroid cancer.
Women are more likely to get thyroid cancer than men (about 75% of all cases).
In almost all cases of thyroid cancer it is necessary to remove some of the thyroid gland (a hemithyroidectomy) or all of the thyroid gland (a total thyroidectomy).
The decision whether to remove some, or all, of your thyroid gland will be influenced by a number of factors including:
The type of thyroid cancer that you have
The size of any tumour and
Whether the cancer has spread beyond your thyroid gland.
Your surgeon will explain to you what type of surgery is required, as well as why it is required, so that you can make an informed decision about undergoing surgery.
Related information and Contacts:
Thyroid Cancer Survivors' Association
Butterfly Thyroid Cancer Trust
PO Box 205
Rowlands Gill
Tyne & Wear, NE39 2WX
Telephone: 01207 545469
Email: enquiries@butterfly.org.uk
British Thyroid Foundation
2nd Floor, 3 Devonshire Place
Harrogate
North Yorkshire, HG1 4AA
Telephone & Fax: 01423 709707 or 01423 709448
British Thyroid Association: The Thyroid Gland & Thyroid Cancer