Endocrine Surgery
Overview of the Service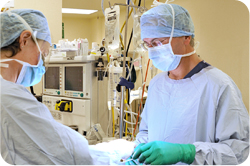 Thyroid surgeons specialising in this area work as part of a multi-disciplinary team along with ENT (ear, nose and throat) surgeons, anaesthetists,endocrinologists, radiologists, pathologists, biochemists, speech therapists and specialist ward staff.
Regular Multi-disciplinary meetings are held to produce the best management plans for patients with endocrine disease, including thyroid, parathyroid and adrenal disorders.
The most common procedure in this speciality is removal of the thyroid gland, (thyroidectomy),with about 70 operations being done at the RUH annually. Most of these are for benign conditions, but about 10% are for cancer of the thyroid gland. Some cancer operations are done jointly with an ENT surgeon where lymph node clearance is required.