Endocrine Surgery
Meet the Team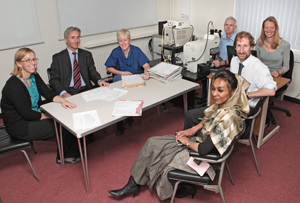 The  multi-disciplinary team consists of:
John Waldron
ENT Surgeon
Kate Allen
Consultant Endocrinologist
John Reckless
Consultant Endocrinologist
Anthony Robinson
Consultant Endocrinologist
Education:
Mr Maddox, BSc (Hons), M.B.B.Ch, MCh, FRCS (Ed), FRCS (Eng), graduated from Welsh National School of Medicine in 1980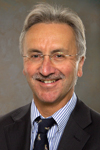 Appointed to the RUH:
1994
Area of Special Interest:
Breast, Endocrine surgery
Mr Maddox completed oncoplastic and benign breast training at Cardiff with Professor Robert Mansel, under whose supervision he conducted research leading to a thesis on hormonal dynamics of breast cancer which was awarded an Arris and Gale medal by the Royal College of Surgeons of England.
He also completed training in the full range of Endocrine surgery there with Professor Malcolm Wheeler and gained further experience with Professor Jon van Heerden at the Mayo Clinic with a scholarship from the British Association of Endocrine Surgery.
He has been the author of over 30 publications, mostly on breast disease, and has written several chapters in major surgical textbooks.
He is an examiner for the Intercollegiate Board for Final FRCS Examination.
Contact:
01225 82 4922
Dr Chris Meehan, Pathologist, went to Medical School in Glasgow and studied for an Intercalated Science Degree in Pathology in 1985 and completed his Medical Studies in 1987.

Following his year of house jobs in Glasgow, he trained in Edinburgh and Southampton. He was appointed as Consultant in the RUH in 1995.

He has been the Lead for Breast Pathology for the last twelve years.
Dr. Simon Malthouse
Consultant Radiologist
Dr. Stewart Redman (nuclear medicine)
Consultant Radiologist
Dr Gareth Rees, FRCP, FRCR, studied medicine at the Welsh National School of Medicine and graduated in 1972. He did his specialist training at Bristol & Sheffield.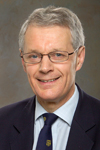 He was appointed consultant in 1983.
Specialist areas:
Breast, Colorectal and Thyroid cancer.
Dr Rees has authored approximately 50 publications including the following for patients and other lay people: 'Understanding Cancer' (Family Doctor Publications) and The British Medical Association Family Doctor Guide to Cancer (Dorling Kindersley).
He is currently the Clinical Oncology representative on NICE Cancer of Unknown Primary (CUP) Guideline Development Group.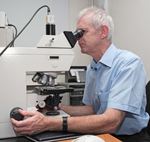 Dr.Richard Graham
Consultant Radiologist
Andrew Taylor
Consultant Biochemist
Speech Therapists
Doctor Edward Sheffield
Regional Thyroid Specialist