Paediatric Department
Feedback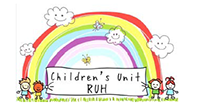 We work hard to make your experience with the hospital as positive as possible, and it's important to us to hear your thoughts about what you liked, and what you think we need to improve.
All answers are anonymous and will be reviewed to help us improve our services. Your answers may be used in research or publications by the Paediatric Team.
Outpatients
Please click on the links below to access our questionnaires, we have suggested age groups for our surveys but please fill in the one you feel most comfortable with :-
0-11 Feedback
Questionnaire pending.
11+ Feedback
Questionnaire pending.
Parent/Carer feedback