Breast Unit
Neo Adjuvant therapies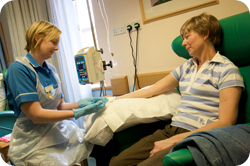 Neo-adjuvant or primary therapies are treatments given before surgery and include chemotherapy, Herceptin* and endocrine therapy (hormones).
The treatments may be used to slow the growth of tumours that are growing rapidly or to shrink larger tumours. We hope by shrinking the tumour it may be possible for a woman to avoid having a mastectomy and instead have a lumpectomy.
At the RUH, we have built up extensive experience in giving these forms of treatment, with 30 women choosing primary chemotherapy and 50 women choosing primary endocrine therapy a year.
If your surgeon has recommended primary chemotherapy you will see a doctor in the oncology unit who will advise you on the best chemotherapy combination for you, and organize an early start date.
The oncology unit works closely with the breast imaging team to monitor with carefully timed ultrasound how the tumour is responding to treatment. This approach requires good team work and your progress will be discussed weekly at the multi disciplinary team meeting (MDT).
Sometimes we recommend changes in chemotherapy or move straight to surgery; you would be fully involved in these decisions. Following surgery you may require radiotherapy and further Herceptin if this is part of your treatment schedule.
*neoadjuvant use of Herceptin agreed by ASWCS cancer network
Further information