Breast Unit
The Bath Cancer Information and Support centre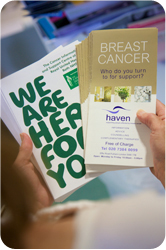 We would really encourage you to visit the team at the Bath Cancer Information and Support Centre Cancer (link below) just opposite William Budd ward.
The Bath Cancer Unit and its William Budd ward have benefited greatly from having a supporting charity, the Bath Cancer Unit Support Group.
The generous funding provided over many years has contributed substantially to treatment facilities, especially those concerned with modern radiotherapy, and a whole range of amenities and other extras. These have helped make the Bath Cancer Unit a welcoming and pleasant place in which to receive treatment.
RUH Cancer Information & Support Group
(link opens a new window)