Breast Unit
Breast Pain (Mastalgia)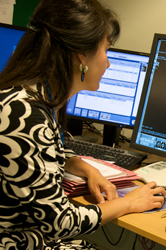 Breast discomfort is a very common problem, especially for women who are pre menopausal or for those who are pregnant and breast-feeding.
For pre menopausal (non pregnant) women discomfort is frequently experienced during the week leading up to a menstrual bleed. For most women this discomfort is mild.
However, some women may experience more severe discomfort that is not just limited to the pre menstrual time. Discomfort may be experienced in both breasts equally, or just in a part of one breast. It often occurs with the feeling of increased nodularity.
The exact cause of these symptoms is unknown although it would appear that the breast tissue reacts in an abnormal way to normal hormonal changes to cause pain and nodularity. It can a difficult condition to treat, probably because we are not really sure as to why it occurs in the first place.
For many patients the severity of symptoms often fluctuates with time such that the pain may improve by itself with time in any case.
For many patients simple reassurance that the pain does not have a 'sinister' cause is enough in itself to ease worry and concern.
For those women whose breast pain is more severe, what measures can be taken?
The traditional advice has been to try evening primrose or star flower oil. In essence these are herbal remedies that contain a substance called gammalenic acid. This is a naturally occurring free fatty acid. It is thought that if one takes this in sufficient quantities it may help to reduce the severity of breast pain. It can be bought over the counter in many health food shops or super markets. It is well tolerated by most women and has few side effects. The normal capsule strength is in the region of 500mg. It is thought that for this remedy to be effective one needs to take a high dose of the compound; perhaps 2-3g per day (or 4-6 capsules a day). It is important to understand that this therapy may well not work for everybody.
Clinical studies have failed to prove its effectiveness conclusively and some experts feel that it is no more effective than a placebo. However, it is a harmless and well tolerated drug and has few side effects so that it is a quite reasonable step to take in the first instance to see if benefit can be achieved.
Some women experience severe discomfort that can be very disruptive to quality of life. In these rare situations we can offer further help and advice and it may be necessary to use anti oestrogen type drugs to help improve the pain.