Remembering
We host events for families and friends who have lost a loved one. Please take a look at the details below to find out more.
A Service to Remember Special Babies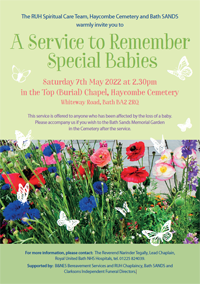 Saturday 7th May 2022 at 2.30pm
Top (Burial) Chapel, Haycombe Cemetery
Whiteway Road, Bath BA2 2RQ
This service is offered to anyone who has been affected by the loss of a baby. Please accompany us if you wish to the Bath Sands Memorial Garden in the Cemetery after the service.
For more information, please contact: The Reverend Narinder Tegally, Lead Chaplain, Royal United Bath NHS Hospitals
01225 824039
Supported by: B&NES Bereavement Services and RUH Chaplaincy, Bath SANDS and Clarksons Independent Funeral Directors.