Learning and Development
eLearning and ESR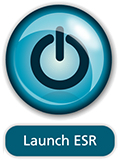 Access your online training, payslip and much more from home or outside the Trust via the
ESR (Electronic Staff Record).
How to set up Remote Access
Accessing ESR via Username and Password
Download the eLearning Guidance Leaflet . This will help you with your ESR login, and to search for, enrol and play eLearning from work or home.
Please note that we are unable to assist users with technical issues whilst completing eLearning from a home computer.
eLearning Support
The eLearning Support video gives an overview of how to log in to ESR, check your STAR record and complete your mandatory training via eLearning. For further information on eLearning please contact ruh-tr.elearningsupport@nhs.net or telephone 01225 825902 or 07751 402337.
How to find the mandatory modules
Locally-developed mandatory and essential programmes start with 427 RUH
From the eLearning Enrolments tab click into the blank search box (next to 'course' box) type ruh% & a key word from the course title you are looking for eg. ruh%dementia for 427 RUH Dementia eLearning.
Need help? Contact Lisa Harvey - eLearning Support Officer:
01225 825902 or 07751 402337
eLearning support is available Mon-Fri in the Academy Library, 08:00 - 17:00.
Where else you can access eLearning
There are other websites with freely available eLearning that you might like to explore.