Bath Simulation Centre (BSC)
iResus App is a Life Saver
Insight Article Summer 2010
Research on the new iResus App carried out at the Bath Simulation Centre
UTOPIA training saves lives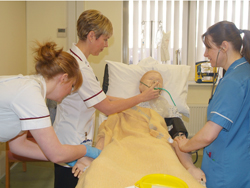 Insight Article Summer 2010
The RUH uses leading edge technology to train clinical staff in how to recognise, assess and treat medical emergencies.
Using the medical simulation suite and high fidelity mannequins to mimic real life emergency scenarios, the Resuscitation and Clinical Skills team is running UTOPIA (Urgent Treatment of Patients in Adversity), a course which teaches skills in the assessment and treatment of deteriorating patients.
Medical Simulation Specialist Nurse Alan Winterman says: "Most medical emergencies in hospital are not sudden or unpredictable events. In the majority of cases, patients show signs of physiological deterioration, such as an increase in heart rate or a drop in blood pressure, over a few hours before acute deterioration or cardiac arrest occurs. Training in early recognition and effective treatment of critically ill patients is essential to prevent cardiac arrests, death or unanticipated intensive care admissions.
Simulation Team wins coveted "Most Innovative Team" award for 2009
Insight Article Spring 2009
The Simulation Suite Team managed the implementation of a £50 000 Simulation Suite - a training facility that will allow our staff to develop and maintain their clinical skills by simulating real life situations.