Bath Simulation Centre (BSC)
About the Bath Simulation Centre (BSC)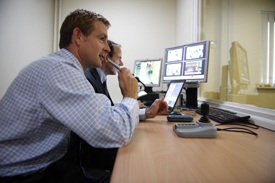 The Bath Simulation Centre is available for the teaching of undergraduate medical students, doctors, nurses, HCA's and allied healthcare professionals. Teaching sessions are supported by a specialist simulation nurse and a technician.
The staff are here to help out with the setting up and running of any medical training using the Bath Simulation Centre.
The lead facilitator can organise a teaching session in three ways.
Access the databank and use a tried a tested scenario.
Create a new scenario using the preferred template.
Plan a scenario on the spot with the support of a technician or a nurse.