Healthcare Play Specialists
The importance of play
Play is an essential part of childhood - a child learns, develops, communicates and expresses them self through play.
Our Healthcare Play Specialist team provide play for sick children and young people. They provide our patients with the means to develop through fun and familiar activities, according to their age and ability, and to meet their social, emotional, developmental and cultural needs.
The team work closely with medical and nursing staff to make sure children and young people get the best care. Play has an important role to play in a child's treatment and to aid their recovery.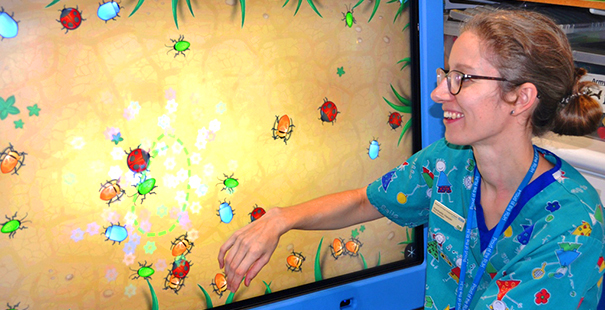 Play facilities
We have a play/activity room equipped with toys and activities within the Children's ward with an outdoor area that is available with patient/carer supervision to all patients. We have a Teenage room for young people age 12 years and over. These can help to encourage children to play, be entertained and distracted during their hospital stay. Play facilities are also available in the outpatients department.
We also offer:
Pets as Therapy (PAT)
Artists in Residence
Giggle Doctors