Upper GI Surgery
Manometry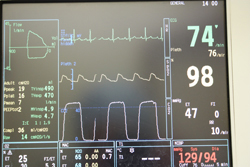 Oesophageal manometry is a test to measure the pressure inside the lower part of the oesophagus. The test is carried out if you are thought to be suffering from reflux disease.
How the Test is Performed
During oesophageal manometry, a thin, pressure-sensitive tube is passed through your mouth or nose and into your stomach. Once in place, the tube is pulled slowly back into your oesophagus.
When the tube is in your oesophagus, you will be asked to swallow. The pressure of the muscle contractions will be measured along several sections of the tube.
While the tube is in place, other studies of your oesophagus may be done. The tube is removed after the tests are completed. The test takes about 1 hour.
How to Prepare for the Test
You should not have anything to eat or drink for 8 hours before the test.
How the Test Will Feel
You may have a gagging sensation and some discomfort when the tube is put into place.
Why the Test is Performed
The purpose of oesophageal manometry is to see if the esophagus is contracting and relaxing properly. The test helps diagnose any swallowing problems.