Breast Unit
High Definition Ultrasound
What is an ultrasound scan of the breast?
An ultrasound scan builds up a picture of the inside of the breast. It uses sound waves of a frequency above the range at which the human ear can hear.
A small hand-held sensor is pressed against the skin surface. It both generates sound waves and detects any echoes reflected back off the surfaces and tissue boundaries of internal organs.
The sensor can be moved over the skin to view the breast from different angles. The pictures are displayed on a monitor and recorded for subsequent study.
Are there any risks in having an ultrasound scan?
No, there are no known risks and it is considered to be very safe. It is a commonly used method of breast imaging.
Who will you see when you have an ultrasound scan?
You will be cared for by a small team and seen by a radiologist. During the scan, the radiologist will look at the images on the screen and may go on to take a biopsy using the ultrasound to guide the needle.
Are you required to make any special preparations?
No.
What does the ultrasound scan entail?
The radiologist will generally ask you about the breast problem you have. Once you are lying on the couch, your breast will be examined, for example, to check the position of any lumps.
A gel will be applied to your skin over the area of the breast to be scanned. This gel allows the sensor to slide easily over the skin and helps to produce clearer pictures. The lights in the room will be dimmed, so that the pictures on the screen can be seen more clearly.
The radiologist will be beside you, slowly moving the sensor over your skin while viewing the images on the screen. Records of selected images will be made so that they can be viewed later.
Upon completion, the gel will be wiped off and you will be free to get dressed.
How long will the ultrasound scan take?
The actual scan should take around 5–10 minutes.
Will the ultrasound scan hurt?
No.
When will the results be available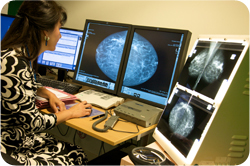 Following your ultrasound examination, you will be told the results on the same day and these will be given to you by a doctor – normally the breast imaging specialist who performs the ultrasound.
If something abnormal is found on ultrasound examination, the breast imaging specialist may advise a needle core biopsy to obtain some tissue to test. If required, this is usually performed at the same time. However, some tests require a longer time or access to the mammogram machine, in which case you will be given an appointment to return, normally within the next 4 weeks.
If you do need further tests, you will be given a full explanation by the breast specialist.
---
---